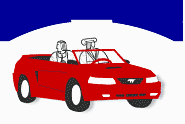 The Ford Motor Company has engaged MIT in addressing an array of 21st century industry challenges. The multi-million dollar alliance, begun in 1997, focuses on three research areas: product development process technology, virtual education, and the environment.
Alliance priorities include the study of engineering design and educational environments of the future as well as seed funding for a major MIT-directed consortium to address global environmental challenges. A main objective of the alliance is the development of strategic mechanisms for an effective, long-term industry/university partnership.
The Ford-MIT Alliance is a program of the Center for Technology, Policy and Industrial Development.