Reports from CITE "Educational Technologies Evaluation in India"
Author(s)
Osterweil, Scot
;
Shah, Prateek
;
Allen, Stacey
;
Groff, Jennifer
;
Kodidala, Sai Priya
;
Schoenfeld, Ilana
; ...
Show more
Show less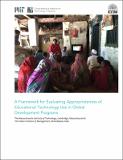 Download
Full report from CITE " Educational Technologies Evaluation in India" (5.119Mb)
Additional downloads
Abstract
Educational technologies of all types are quickly gaining popularity across the developing world. Governments, school districts, and teachers have made investments in these technologies in hopes that they will aid learning and achievement. However, assessing the best uses of an educational technology in the classroom is difficult. Not only do uses of the technologies vary, but these different uses also can affect a variety of factors in the classroom. CITE has created and tested a replicable framework for governments, organizations, and schools to effectively evaluate educational technologies for specific uses in their classrooms. This evaluation took place in India, and primarily focused on English language learning software. The tool is of general use for evaluating educational technologies in developing countries, but CITE is also working with World Vision and USAID to design a specific adaptation of the framework to help evaluate submissions in its literacy-based Grand Challenges for Development competition: All Children Reading.
Date issued
2016
---
Collections
The following license files are associated with this item: