The Metaphors of Emerging Technologies: Unpacking the disconnects between the "what" and the "how" in the world of "online shopping"
Author(s)
Black, Jason
;
Downes, Kieran
;
Field, Frank
;
Mozdzanowska, Aleksandra
;
Steel, Katherine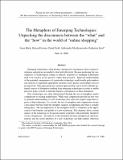 Download
PDF of conference paper; formatted for legibility (166.6Kb)
Abstract
Emerging technologies often produce unexpected consequences that existing institutions and policies are unable to deal with effectively. Because predicting the consequences of technological change is difficult, responses to emerging technologies tend to be reactive (if not passive), rather than proactive. Improved understanding of the potential consequences of a particular technology would enable policymakers and analysts to implement appropriate measures more quickly and perhaps even act prospectively. This paper proposes a general approach that can be used to identify potential sources of disruption resulting from emerging technologies in order to enable proactive policy actions to limit the negative consequences of these disruptions. New technologies are often characterized through the use of metaphors and/or comparisons to existing technologies. While such comparisons provide an easy way to generate understanding of a new technology they often also neglect important aspects of that technology. As a result, the use of metaphors and comparisons creates a disconnect between what the metaphor suggests is happening and what is actually taking place. The incompleteness of the metaphors leads to a disparity in the appreciation of the benefits, and pitfalls of a new technology. This disparity allows certain aspects of the technology to be ignored and/or exploited, with potentially disruptive social consequences. An analysis of the mismatch between metaphorical characterizations and the actual attributes of a new technology can help identify otherwise overlooked issues and determine if existing institutions and policies can adequately respond. This paper uses a study of personalization technologies by online retailers to demonstrate the potential for disruption caused by failures of metaphor to adequately describe new technologies. Online retailing technologies have equipped firms with tools that allow them to move closer to the ``mass market of one" --- satisfying the demands of a mass market through individually-targeted sales strategies (i.e., personalization). While the metaphors of ``shopping" and ``catalog" have been used to describe online retail ``stores," these metaphors fail to capture several key aspects of online retail technologies such as aggregation, replication, persistence, and analysis of the personal data easily collected by such businesses. As a result, the institutions that exist to protect consumers when dealing with traditional, physical stores may no longer be sufficient. Furthermore, the pervasiveness of the metaphor undermines the ability of consumers to understand or debate the negative consequences of personalization, especially in the areas of privacy and identity.
Description
Conference paper preprint, 9th International Conference on Technology Policy and Innovation, Santorini, Greece
Date issued
2006-06-18
Series/Report no.
PoET Working Papers
Keywords
metaphor, emerging technology, privacy, online shopping, digital identity
---
Collections