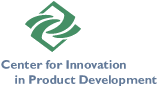 The IFM initiative seeks to map all aspects of the PD process.
Using Design Structure Matrix (DSM) and other advanced analytical tools, we model and simulate information flows to enhance our partners' understanding of their own unique PD processes. MIT is at the heart of DSM research.
We use DSM to capture system-level knowledge in novel ways, and to accurately represent complex product architectures and large development organizations.
Over 20 years in development, DSM is a rigorously-tested method for studying complex projects. Visit our DSM website for software, publications, tutorials, examples, and links to DSM research around the world. http://www.dsmweb.org/