Representativity and Networked Interference in Data-Rich Field Experiments: A Large-Scale RCT in Rural Mexico
Author(s)
Noriega, Alejandro
;
Pentland, Alex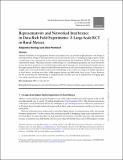 Download
Representativity and Networked Interference in Data-Rich Field Experiments- A Large-Scale RCT in Rural Mexico.pdf (580.4Kb)
Abstract
Modern availability of rich geospatial datasets and analysis tools can provide insight germane to the design of field experiments. Design of field experiments, and in particular the choice of sampling strategy, requires careful consideration of its consequences on the external representativity and interference (SUTVA violations) of the experimental sample. This paper presents a methodology for a) modeling the geospatial and social interaction factors that drive interference in rural field experiments; and b) eliciting a set of nondominated sample options that approximate the Pareto-optimal tradeoff between interference and external representativity, as functions of sample choice. The study develops and tests the methodology in the context of a large-scale health experiment in rural Mexico, involving more than 3,000 pregnant women and 600 health clinics across 5 states. Relevant for the practitioner, the methodology is computationally tractable and can be implemented leveraging open sourced geo-spatial data and software tools.
Date issued
2020-02
Publisher
The World Bank Economic Review
Citation
Noriega, A., & Pentland, A. (2020). Representativity and Networked Interference in Data-Rich Field Experiments: A Large-Scale RCT in Rural Mexico. The World Bank Economic Review, 34(Supplement_1), S35-S39.
---
Collections
The following license files are associated with this item: