Turkers of the World Unite: Multilevel In-Group Bias Among Crowdworkers on Amazon Mechanical Turk
Author(s)
Almaatouq, Abdullah
;
Krafft, Peter
;
Dunham, Yarrow
;
Rand, David G.
;
Pentland, Alex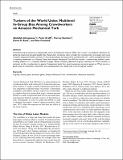 Download
Turkers of the World Unite- Multilevel In-Group Bias Among Crowdworkers on Amazon Mechanical Turk.pdf (291.0Kb)
Abstract
Crowdsourcing has become an indispensable tool in the behavioral sciences. Often, the "crowd" is considered a black box for gathering impersonal but generalizable data. Researchers sometimes seem to forget that crowdworkers are people with social contexts, unique personalities, and lives. To test this possibility, we measure how crowdworkers (N 1⁄4 2,337, preregistered) share a monetary endowment in a Dictator Game with another Mechanical Turk (MTurk) worker, a worker from another crowd- working platform, or a randomly selected stranger. Results indicate preferential in-group treatment for MTurk workers in particular and for crowdworkers in general. Cooperation levels from typical anonymous economic games on MTurk are not a good proxy for anonymous interactions and may generalize most readily only to the intragroup context.
Date issued
2020-03-01
Publisher
Social Psychological and Personality Science
Citation
Almaatouq, A., Krafft, P., Dunham, Y., Rand, D. G., & Pentland, A. (2020). Turkers of the world unite: Multilevel in-group bias among crowdworkers on amazon mechanical turk. Social Psychological and Personality Science, 11(2), 151-159.
---
Collections
The following license files are associated with this item: