Can an Emoji a Day Keep the Doctor Away? An Explorative Mixed-Methods Feasibility Study to Develop a Self-Help App for Youth With Mental Health Problems
Author(s)
van Dam, Levi
;
Rietstra, Sianne
;
Van Der Drift, Eva
;
Stams, Geert Jan J. M.
;
Van der Mei, Rob
;
Mahfoud, Maria
;
Popma, Arne
;
Schlossberg, Eric
;
Pentland, Alex
;
Reid, Todd G.
; ...
Show more
Show less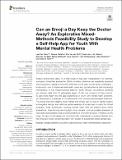 Download
Can an Emoji a Day Keep the Doctor Away? An Explorative Mixed-Methods Feasibility Study to Develop a Self-Help App for Youth With Mental Health Problems.pdf (1.181Mb)
Date issued
2019-08-23
Publisher
Frontiers in Psychiatry
Citation
Van Dam, L., Rietstra, S., Van der Drift, E., Stams, G. J. J., Van der Mei, R., Mahfoud, M., ... & Reid, T. G. (2019). Can an emoji a day keep the doctor away? An explorative mixed-methods feasibility study to develop a self-help app for youth with mental health problems. Frontiers in psychiatry, 10, 593.
---
Collections
The following license files are associated with this item: