Negotiated environmental and occupational health and safety agreements in the United States: lessons for policy
Author(s)
Ashford, Nicholas A.
;
Caldart, Charles C.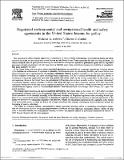 Download
65. NAA & CC (2001) Negotiated Environmental and Occupational Health and Safety Agreements in the US.pdf (3.871Mb)
Abstract
The interest in so-called voluntary approaches to supplement or replace formal environmental, or occupational health and safety regulation has taken on new importance in both Europe and the United States. These approaches fall into two sharp divisions: (1) industry-initiated codes of good practice focusing on environmental management systems or performance goals, and (2) negotiated agreements between government and individual firms or industry sector trade associations focusing on regulation or compliance. This paper addresses the latter. In the United States, the motivations behind negotiated agreements are manifold and sometimes contradictory including desires (1) to facilitate the achievement of legislated or mandatory environmental goals by introducing flexibility and cost-effective compliance measures, (2) to negotiate levels of compliance (standards) fulfilling legislative mandates, (3) to negotiate legal definitions of Best Available Technology and other technology-based requirements, and (4) to weaken environmental initiatives. Efforts in furtherance of negotiated agreements have thus been greeted with mixed results by the various stakeholders. In the context of an anti-regulatory climate in the United States, the Administrative Procedures Act has been amended to allow "negotiated rulemaking" in achieving regulatory agency mandates. However, even before this legal innovation, regulatory agencies have been negotiating regulations. Independent of this legal avenue, negotiated compliance with industry associations is being fostered through the Environmental Protection Agency's (EPA's) "Commonsense Initiative" and with individual firms through "EPA's Project XL", again with mixed reception. The proposed paper describes and analyses negotiated agreements in the United States in the context of (1) EPA efforts to ensure environmental protection and (2) the Occupational Safety and Health Administration efforts to ensure worker health and safety. These agreements can be described according to the following taxonomy: (a) Negotiated regulation (either preceding formal regulation or as a substitute for formal regulation); (b) Negotiated compliance (implementing regulation or informal agreements) (i) the means and timetable for coming into compliance with emission, effluent, or concentration requirements (ii) negotiation in the context of an enforcement action in which the firm is out of legal compliance (for example, encouraging cleaner production through the leveraging of penalty reductions). The criteria for evaluation include: environmental or health and safety outcomes, effects on stimulating technological change, time for development (time to completion)/implementation (likelihood of court challenge), stakeholder influence (ability of large firms to dominate outcome, environmentalists–industry, or labour–management balance of power),and administrative features.
Date issued
2001
Publisher
Journal of Cleaner Production
ISSN
doi.org/10.1016/S0959-6526(00)00062-7
---
The following license files are associated with this item: