Convergence of Bio Info Nano Eco: Global Public Goods and Economic Growth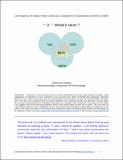 Download
42 Global Public Goods and Economic Growth _ Convergence of Bio Info Nano Eco.pdf (1.250Mb)
Additional downloads
Alternative title
Can Convergence of Innovation Catalyse Economic Growth?
Abstract
This article is about convergence and why not. How about a ride to space in an elevator? Why not? A single nanotube could stretch from earth to the stratosphere and be able to support its own weight. This fact spurred NASA to review ideas proposed by Konstantin Tsiolkovsky (1895) a Russian visionary and Arthur C. Clarke in The Fountains of Paradise (1978). The idea is to build an elevator (lift) that will travel 60,000 miles from the earth's surface into space carrying cargo and humans. It is predicted that the 'space elevator' will lower the cost of positioning a satellite in space from $10,000 to $100 per pound. NASA provided $570,000 to Bradley Edwards to provide details. Bradley Edwards' proposal calls for a single nanotube about 75 cm wide and thinner than a piece of paper that will stretch 60,000 miles from the surface of the earth or the ocean floor (The Space Elevator by Bradley Edwards, 2002). A 3-day NASA conference in Santa Fe, New Mexico (September 2003) drew 60 scientists and engineers working on the concept. The outcome of the meeting: "it is plausible." (Gentry Lee, Chief Engineer, JPL, Cal Tech). The 'space elevator' apparatus would lift up to 13 tons of cargo in a week to reach the geosynchronous orbit (22,300 miles). The necessary underlying technologies exist except the carbon nanotube material (ribbon). The estimated cost to build the first space elevator may be $6 to $12 billion. Subsequent elevators may cost $2 billion. The estimated cost of building and operating the international Space Station is expected to exceed $100 billion. Those who are teenagers today, may wish to book a suite in that elevator to space, to celebrate their 50th marriage anniversary!
Description
Big ideas offer big dividends but have stormy beginnings. Even worse is when people cannot visualise the future because their imagination is bent out of focus by short-term ROI or resistance to change status quo! Systemic vision requires individuals who can visualize future issues with dynamic and analytical convergence which balances the odds of probabilistic decision making in a generally uncertain world. It is such 'inclusive' and out-of-the-box thinking that is uncommon because institutions still offer prizes for depth of expertise, almost exclusively. Erudite scholars such as Murray Gell-Mann and Nicholas Negroponte, continue to comment on the need for individuals with 'horizontal' understanding. But, academic status quo and paucity of such enlightened views are discouraging individuals to pursue a broad spectrum of 'horizontal' understanding. In "Darwin's Middle Road" that Stephen Jay Gould wrote for his monthly column in the Natural History magazine, Gould once said, "if genius has any common denominator, I would propose breadth of interest and the ability to construct fruitful analogies between fields."
Date issued
2008-07-31
Keywords
Global Public Goods, nanotechnology, energy, information technology, molecular medicine, infectious diseases, hydrogen, chemistry
---
Collections
The following license files are associated with this item: