INGRID and the Zen of Energy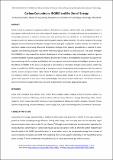 Download
DRAFT _ Carbon Conundrum _ INGRID and the Zen of Energy _ Shoumen Datta, MIT _ DRAFT 05052009.pdf (1.475Mb)
Abstract
Policies based on empirical assumptions without a foundation in granular real-time data may be limited in scope. It may sputter ineffectively in its role as the engine of energy economics. For energy efficiency and conservation, it is increasingly necessary to invest in systems, tools and practices that can facilitate bi- or multi-directional flow of energy to control or balance consumption with the goal to reduce carbon footprint. The central dogma of an energy oligopoly and uni-directional distribution through the electricity grid is poised for a radical overhaul. An "internet" of electricity capable of executing differential distribution strategies from capacity generated by a network of micro-suppliers and electricity producers may evolve from the proposed Smart Grid infrastructure. The future Intelligent Grid (INGRID) is a step toward the obvious. Development of methodologies using technologies based on rigorous scientific standards must be coupled with effective dissemination of tools and adopted by consumers to acquire real-time monitoring data for analyses and feedback decision support. Automation driven by intelligent systems is key to the efficacy of INGRID. In this essay, we advocate a convergence of innovation through service science, which may evolve in parallel with INGRID, representing an amorphous nexus of engineering and management with the needs of society, industry and government. Higher levels of decision support, necessary both for strategists (policy makers) and engineers (INGRID operators), may be impotent or without global impact if we fail to promote diffusion of a "grass-roots" approach to seed one or more methodologies necessary to acquire data from a critical mass of users in each environmental category (domestic, industrial, hospital) from each major geographical region.
Description
Climate change is a global phenomenon with profound local impact. The relatively slow rate of climate change in combination with the nature of factors responsible for the problem, in part, makes it difficult for managers to invest their limited resources to implement enabling technologies necessary to address environmental responsibility unless the investment can be linked with a financial incentive, for example, savings from energy efficiency. Various forms of legislation are making their way through governments to mandate some elements of efficiency. The impact of regulation will extract a price which will influence the cost of all goods and services. The science and engineering developments necessary to mitigate climate change will usher in a convergence through innovation in service science. A catalyst in the information and communication revolution was the Internet. Although embryonic, evolution in climate control strategy may find part of its solution in the 'internet of electricity' through the emergence of INGRID, the intelligent grid. INGRID is not without its problems and is only one component in the global energy debate. In addition to the staggering cost of infrastructure, issues arising from synchronization and automation of micro-generation, storage with minimal loss, dynamic distribution, differential pricing and auctions, collectively, presents technical challenges for systems engineers and energy e-business entrepreneurs.
Date issued
2009-05-08
Series/Report no.
Arm Chair Essays in Energy;III
Keywords
Smart Grid, Intelligent Grid, INGRID, IPv6, Carbon Micro-Credits, Carbon Trading, Carbon Emissions, Carbon Tax, Carbonomics, Internet of Electricity, Service Science, Wireless Sensor Networks, Energy Monitoring, Policy, Carbon Footprint, Green House Gas (GHG) Emissions, Clean Development Mechanism (CDM), Analytics, Dynamic Pricing, Dynamic Programming, Intuitive Software, Carbon Supply Chain, Operations Management, Econometric Techniques
---
Collections
The following license files are associated with this item:
Related items
Showing items related by title, author, creator and subject.
Ye, Yuxuan, Ph. D. Massachusetts Institute of Technology

(

Massachusetts Institute of Technology

,

2018

)

Chapter 1. Palladium-Catalyzed Fluorination of Cyclic Vinyl Triflates: Dramatic Effect of TESCF₃ as an Additive A method for the synthesis of cyclic vinyl fluorides with high levels of regiochemical fidelity has been ...