Extending a MOOS-IvP Autonomy System and Users Guide to the IvPBuild Toolbox
Author(s)
Benjamin, Michael R.
;
Newman, Paul M.
;
Schmidt, Henrik
;
Leonard, John J.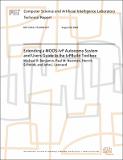 Download
MIT-CSAIL-TR-2009-037.pdf (2.923Mb)
Additional downloads
Advisor
Robotics, Vision & Sensor Networks
John Leonard
Abstract
This document describes how to extend the suite of MOOS applications and IvP Helm behaviors distributed with the MOOS-IvP software bundle from www.moos-ivp.org. It covers (a) a straw-man repository with a place-holder MOOS application and IvP Behavior, with a working CMake build structure, (b) a brief overview of the MOOS application class with an example application, (c) an overview of the IvP Behavior class with an example behavior, and (d) the IvPBuild Toolbox for generation of objective functions within behaviors.
Date issued
2009-08-20
Series/Report no.
MIT-CSAIL-TR-2009-037
Keywords
UUV, Behavior Based Control, Unmanned Vehicles, Multi-objective Optimization, Autonomous Marine Vehicles, Behavior Based Architecture, Autonomous Vehicles, AUV, Arbitration, MOOSDB, Unmanned Marine Vehicles, Action Selection, Multi-Objective Optimization, Autonomous Helm, USV, Unmanned Surface Vehicles, MOOS, Behaviors, Artificial Intelligence, Autonomous Decision Making, Underwater Vehicles, ZAIC
---
Related items
Showing items related by title, author, creator and subject.
Bertsimas, Dimitris J.

;

Ryzin, Garrett van

(

Massachusetts Institute of Technology, Operations Research Center

,

1990-08

)

In a previous paper [12], we introduced a new model for stochastic and dynamic vehicle routing called the dynamic traveling repairman problem (DTRP), in which a vehicle traveling at constant velocity in a Euclidean region ...