Fractional crystallization of high-K arc magmas: biotite- versus amphibole-dominated fractionation series in the Dariv Igneous Complex, Western Mongolia
Author(s)
Jagoutz, Oliver
;
Sambuu, Oyungerel
;
Bucholz, Claire E.
;
Schmidt, Max W.
;
Jagoutz, Oliver E.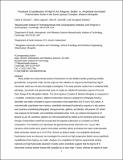 Download
410_2014_1072_ReferencePDF.pdf (1.655Mb)
OPEN_ACCESS_POLICY
Open Access Policy
Creative Commons Attribution-Noncommercial-Share Alike
Abstract
Many studies have documented hydrous fractionation of calc-alkaline basalts producing tonalitic, granodioritic, and granitic melts, but the origin of more alkaline arc sequences dominated by high-K monzonitic suites has not been thoroughly investigated. This study presents results from a combined field, petrologic, and whole-rock geochemical study of a paleo-arc alkaline fractionation sequence from the Dariv Range of the Mongolian Altaids. The Dariv Igneous Complex of Western Mongolia is composed of a complete, moderately hydrous, alkaline fractionation sequence ranging from phlogopite-bearing ultramafic and mafic cumulates to quartz–monzonites to late-stage felsic (63–75 wt% SiO[subscript 2]) dikes. A volumetrically subordinate more hydrous, amphibole-dominated fractionation sequence is also present and comprises amphibole (±phlogopite) clinopyroxenites, gabbros, and diorites. We present 168 whole-rock analyses for the biotite- and amphibole-dominated series. First, we constrain the liquid line of descent (LLD) of a primitive, alkaline arc melt characterized by biotite as the dominant hydrous phase through a fractionation model that incorporates the stepwise subtraction of cumulates of a fixed composition. The modeled LLD reproduces the geochemical trends observed in the "liquid-like" intrusives of the biotite series (quartz–monzonites and felsic dikes) and follows the water-undersaturated albite–orthoclase cotectic (at 0.2–0.5 GPa). Second, as distinct biotite- and amphibole-dominated fractionation series are observed, we investigate the controls on high-temperature biotite versus amphibole crystallization from hydrous arc melts. Analysis of a compilation of hydrous experimental starting materials and high-Mg basalts saturated in biotite and/or amphibole suggests that the degree of K enrichment controls whether biotite will crystallize as an early high-T phase, whereas the degree of water saturation is the dominant control of amphibole crystallization. Therefore, if a melt has the appropriate major-element composition for early biotite and amphibole crystallization, as is true of the high-Mg basalts from the Dariv Igneous Complex, the relative proximity of these two phases to the liquidus depends on the H[subscript 2]O concentration in the melt. Third, we compare the modeled high-K LLD and whole-rock geochemistry of the Dariv Igneous Complex to the more common calc-alkaline trend. Biotite and K-feldspar fractionation in the alkaline arc series results in the moderation of K[subscript 2]O/Na[subscript 2]O values and LILE concentrations with increasing SiO[subscript 2] as compared to the more common calc-alkaline series characterized by amphibole and plagioclase crystallization and strong increases in K[subscript 2]O/Na[subscript 2]O values. Lastly, we suggest that common calc-alkaline parental melts involve addition of a moderate pressure, sodic, fluid-dominated slab component while more alkaline primitive melts characterized by early biotite saturation involve the addition of a high-pressure potassic sediment melt.
Date issued
2014-11
Department
Massachusetts Institute of Technology. Department of Earth, Atmospheric, and Planetary Sciences
Journal
Contributions to Mineralogy and Petrology
Publisher
Springer Berlin Heidelberg
Citation
Bucholz, Claire E. et al. "Fractional Crystallization of High-K Arc Magmas: Biotite- versus Amphibole-Dominated Fractionation Series in the Dariv Igneous Complex, Western Mongolia." Contributions to Mineralogy and Petrology 168.5 (2014): n. pag.
Version: Author's final manuscript
---
Collections