Essentiality of threonylcarbamoyladenosine (t[superscript 6]A), a universal tRNA modification, in bacteria
Author(s)
Thiaville, Patrick C.
;
El Yacoubi, Basma
;
Thiaville, Jennifer J.
;
Deutsch, Chris
;
Iwata-Reuyl, Dirk
;
Bacusmo, Jo Marie
;
Armengaud, Jean
;
Bessho, Yoshitaka
;
Wetzel, Collin
;
Cao, Xiaoyu
;
Limbach, Patrick A.
;
de Crécy-Lagard, Valérie
;
Koehrer, Caroline
;
Rajbhandary, Uttam L
; ...
Show more
Show less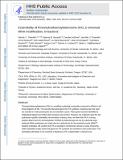 Download
Essentiality of threonylcarbamoyladenosine.pdf (3.436Mb)
OPEN_ACCESS_POLICY
Open Access Policy
Creative Commons Attribution-Noncommercial-Share Alike
Alternative title
Essentiality of threonylcarbamoyladenosine (t6A), a universal tRNA modification, in bacteria
Abstract
Threonylcarbamoyladenosine (t[superscript 6]A) is a modified nucleoside universally conserved in tRNAs in all three kingdoms of life. The recently discovered genes for t6A synthesis, including tsaC and tsaD, are essential in model prokaryotes but not essential in yeast. These genes had been identified as antibacterial targets even before their functions were known. However, the molecular basis for this prokaryotic-specific essentiality has remained a mystery. Here, we show that t[superscript 6]A is a strong positive determinant for aminoacylation of tRNA by bacterial-type but not by eukaryotic-type isoleucyl-tRNA synthetases and might also be a determinant for the essential enzyme tRNA[superscript Ile]-lysidine synthetase. We confirm that t6A is essential in Escherichia coli and a survey of genomewide essentiality studies shows that genes for t[superscrip 6]A synthesis are essential in most prokaryotes. This essentiality phenotype is not universal in Bacteria as t[superscript 6]A is dispensable in Deinococcus radiodurans, Thermus thermophilus, Synechocystis PCC6803 and Streptococcus mutans. Proteomic analysis of t6A- D. radiodurans strains revealed an induction of the proteotoxic stress response and identified genes whose translation is most affected by the absence of t[superscript 6]A in tRNAs. Thus, although t[superscript 6]A is universally conserved in tRNAs, its role in translation might vary greatly between organisms.
Date issued
2015-09
Department
Massachusetts Institute of Technology. Department of Biology
Journal
Molecular Microbiology
Publisher
Wiley Blackwell
Citation
Thiaville, Patrick C. et al. "Essentiality of Threonylcarbamoyladenosine (T 6 A), a Universal tRNA Modification, in Bacteria: T 6 A Essentiality." Molecular Microbiology 98.6 (2015): 1199–1221.
Version: Author's final manuscript
---
Collections