CD5L/AIM Regulates Lipid Biosynthesis and Restrains Th17 Cell Pathogenicity
Author(s)
Wang, Chao
;
Yosef, Nir
;
Gaublomme, Jellert
;
Wu, Chuan
;
Lee, Youjin
;
Clish, Clary B.
;
Kaminski, Jim
;
Xiao, Sheng
;
Zu Horste, Gerd Meyer
;
Pawlak, Mathias
;
Kishi, Yasuhiro
;
Joller, Nicole
;
Karwacz, Katarzyna
;
Zhu, Chen
;
Ordovas-Montanes, Maria
;
Madi, Asaf
;
Wortman, Ivo
;
Miyazaki, Toru
;
Sobel, Raymond A.
;
Park, Hongkun
;
Regev, Aviv
;
Kuchroo, Vijay K.
; ...
Show more
Show less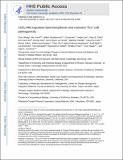 PUBLISHER_CC
Publisher with Creative Commons License
Creative Commons Attribution
Abstract
Th17 cells play a critical role in host defense against extracellular pathogens and tissue homeostasis, but can induce autoimmunity. The mechanisms implicated in balancing 'pathogenic' and 'non-pathogenic' Th17 cell states remain largely unknown. We used single-cell RNA-seq to identify CD5L/AIM as a regulator expressed in 'non-pathogenic' but not in 'pathogenic' Th17 cells. Although CD5L does not affect Th17 differentiation, it is a functional switch that regulates the pathogenicity of Th17 cells. Loss of CD5L converts 'non-pathogenic' Th17 cells into 'pathogenic' cells that induce autoimmunity. CD5L mediates this effect by modulating the intracellular lipidome, altering fatty acid composition, and restricting cholesterol biosynthesis, and thus ligand availability for Rorγt, the master transcription factor of Th17 cells. Our study identifies CD5L as a critical regulator of the Th17 cell functional state and highlights the importance of lipid metabolism in balancing immune protection and disease induced by T cells.
Date issued
2015-11
Department
Massachusetts Institute of Technology. Department of Biology
Citation
Wang, Chao et al. "CD5L/AIM Regulates Lipid Biosynthesis and Restrains Th17 Cell Pathogenicity." Cell 163.6 (2015): 1413–1427.
Version: Author's final manuscript
---
Collections