Event generator tunes obtained from underlying event and multiparton scattering measurements
Author(s)
Apyan, Aram
;
Barbieri, Richard Alexander
;
Baty, Austin Alan
;
Bierwagen, Katharina
;
Brandt, Stephanie Akemi
;
Busza, Wit
;
Cali, Ivan Amos
;
Demiragli, Zeynep
;
Di Matteo, Leonardo
;
Gomez-Ceballos, Guillelmo
;
Goncharov, Maxim
;
Gulhan, Doga Can
;
Iiyama, Yutaro
;
Innocenti, Gian Michele
;
Klute, Markus
;
Kovalskyi, Dmytro
;
Lai, Yue Shi
;
Levin, Andrew Michael
;
Luckey Jr, P David
;
Marini, Andrea Carlo
;
McGinn, Christopher Francis
;
Mironov, Camelia Maria
;
Narayanan, Siddharth Madhavan
;
Niu, Xinmei
;
Paus, Christoph M. E.
;
Ralph, Duncan Kelley
;
Roland, Christof E
;
Roland, Gunther M
;
Salfeld-Nebgen, Jakob Maxillian Henry
;
Stephans, George S. F.
;
Sumorok, Konstanty C
;
Varma, Mukund Madhav
;
Velicanu, Dragos Alexandru
;
Veverka, Jan
;
Wang, J.
;
Wang, Ta-Wei
;
Yang, Mingming
;
Wyslouch, Victoria
; ...
Show more
Show less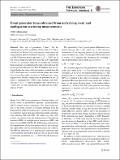 PUBLISHER_CC
Publisher with Creative Commons License
Creative Commons Attribution
Abstract
New sets of parameters ("tunes") for the underlying-event (UE) modelling of the pythia8, pythia6 and herwig++ Monte Carlo event generators are constructed using different parton distribution functions. Combined fits to CMS UE proton–proton (pp) data at s√=7TeV and to UE proton–antiproton (p[bar over p]) data from the CDF experiment at lower s√s, are used to study the UE models and constrain their parameters, providing thereby improved predictions for proton–proton collisions at 13 TeV. In addition, it is investigated whether the values of the parameters obtained from fits to UE observables are consistent with the values determined from fitting observables sensitive to double-parton scattering processes. Finally, comparisons are presented of the UE tunes to "minimum bias" (MB) events, multijet, and Drell–Yan ( q[bar over q]→Z/γ∗→ lepton-antilepton+jets) observables at 7 and 8 TeV, as well as predictions for MB and UE observables at 13 TeV.
Date issued
2016-03
Department
Massachusetts Institute of Technology. Department of Physics

;

Massachusetts Institute of Technology. Laboratory for Nuclear Science
Journal
The European Physical Journal C
Publisher
Springer-Verlag
Citation
CMS Collaboration et al. "Event Generator Tunes Obtained from Underlying Event and Multiparton Scattering Measurements." The European Physical Journal C 76.3 (2016): n. pag. © 2016 CERN for the benefit of the CMS collaboration
Version: Final published version
---
Collections