XRCC1 and base excision repair balance in response to nitric oxide
Author(s)
Svilar, David
;
Wang, Xiao-Hong
;
Lin, Ying-Chih
;
Sobol, Robert W.
;
Mutamba, James Tendai
;
Prasongtanakij, Somsak
;
Dedon, Peter C
;
Engelward, Bevin P
; ...
Show more
Show less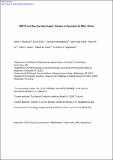 Download
DNAR 11-00130R1-1 Final Submission.pdf (2.178Mb)
PUBLISHER_CC
Publisher with Creative Commons License
Creative Commons Attribution
Abstract
Inflammation associated reactive oxygen and nitrogen species (RONs), including peroxynitrite (ONOO−) and nitric oxide (NOradical dot), create base lesions that potentially play a role in the toxicity and large genomic rearrangements associated with many malignancies. Little is known about the role of base excision repair (BER) in removing these endogenous DNA lesions. Here, we explore the role of X-ray repair cross-complementing group 1 (XRCC1) in attenuating RONs-induced genotoxicity. XRCC1 is a scaffold protein critical for BER for which polymorphisms modulate the risk of cancer. We exploited CHO and human glioblastoma cell lines engineered to express varied levels of BER proteins to study XRCC1. Cytotoxicity and the levels of DNA repair intermediates (single-strand breaks; SSB) were evaluated following exposure of the cells to the ONOO− donor, SIN-1, and to gaseous NOradical dot. XRCC1 null cells were slightly more sensitive to SIN-1 than wild-type cells. We used small-scale bioreactors to expose cells to NOradical dot and found that XRCC1-deficient CHO cells were not sensitive. However, using a molecular beacon assay to test lesion removal in vitro, we found that XRCC1 facilitates AAG-initiated excision of two key NOradical dot-induced DNA lesions: 1,N[superscript 6]-ethenoadenine and hypoxanthine. Furthermore, overexpression of AAG rendered XRCC1-deficient cells sensitive to NOradical dot-induced DNA damage. These results show that AAG is a key glycosylase for BER of NOradical dot-induced DNA damage and that XRCC1's role in modulating sensitivity to RONs is dependent upon the cellular level of AAG. This demonstrates the importance of considering the expression of other components of the BER pathway when evaluating the impact of XRCC1 polymorphisms on cancer risk.
Date issued
2011-10
Department
Massachusetts Institute of Technology. Department of Biological Engineering
Citation
Mutamba, James T., David Svilar, Somsak Prasongtanakij, Xiao-Hong Wang, Ying-Chih Lin, Peter C. Dedon, Robert W. Sobol, and Bevin P. Engelward. "XRCC1 and Base Excision Repair Balance in Response to Nitric Oxide." DNA Repair 10, no. 12 (December 2011): 1282–1293.
Version: Author's final manuscript
---
Collections