Pulvinar-Cortex Interactions in Vision and Attention
Author(s)
Zhou, Huihui
;
Schafer, Robert J.
;
Desimone, Robert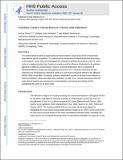 PUBLISHER_CC
Publisher with Creative Commons License
Creative Commons Attribution
Abstract
The ventro-lateral pulvinar is reciprocally connected with the visual areas of the ventral stream that are important for object recognition. To understand the mechanisms of attentive stimulus processing in this pulvinar-cortex loop, we investigated the interactions between the pulvinar, area V4, and IT cortex in a spatial-attention task. Sensory processing and the influence of attention in the pulvinar appeared to reflect its cortical inputs. However, pulvinar deactivation led to a reduction of attentional effects on firing rates and gamma synchrony in V4, a reduction of sensory-evoked responses and overall gamma coherence within V4, and severe behavioral deficits in the affected portion of the visual field. Conversely, pulvinar deactivation caused an increase in low-frequency cortical oscillations, often associated with inattention or sleep. Thus, cortical interactions with the ventro-lateral pulvinar are necessary for normal attention and sensory processing and for maintaining the cortex in an active state. The pulvinar is often proposed to modulate cortical processing with attention. Zhou et al. find that beyond any role in attention, the pulvinar input to cortex seems necessary to maintain the cortex in an active state.
Date issued
2016-01
Department
McGovern Institute for Brain Research at MIT
Publisher
Elsevier/Cell Press
Citation
Zhou, Huihui et al. "Pulvinar-Cortex Interactions in Vision and Attention." Neuron 89, 1 (January 2016): 209–220 © 2016 Elsevier Inc
Version: Author's final manuscript
---
Collections