Landmarks in Existing Tissue at Wounds Are Utilized to Generate Pattern in Regenerating Tissue
Author(s)
Scimone, M. Lucila
;
Oderberg, Isaac Max
;
Li, Dayan
;
Reddien, Peter
;
Gavino, Michael A.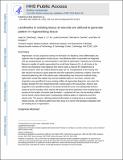 PUBLISHER_CC
Publisher with Creative Commons License
Creative Commons Attribution
Abstract
Regeneration in many organisms involves the formation of a blastema, which differentiates and organizes into the appropriate missing tissues. How blastema pattern is generated and integrated with pre-existing tissues is a central question in the field of regeneration. Planarians are free-living flatworms capable of rapidly regenerating from small body fragments [1]. A cell cluster at the anterior tip of planarian head blastemas (the anterior pole) is required for anterior-posterior (AP) and medial-lateral (ML) blastema patterning [2–4]. Transplantation of the head tip into tails induced host tissues to grow patterned head-like outgrowths containing a midline. Given the important patterning role of the anterior pole, understanding how it becomes localized during regeneration would help explain how wounds establish pattern in new tissue. Anterior pole progenitors were specified at the pre-existing midline of regenerating fragments, even when this location deviated from the ML median plane of the wound face. Anterior pole progenitors were specified broadly on the dorsal-ventral (DV) axis and subsequently formed a cluster at the DV boundary of the animal. We propose that three landmarks of pre-existing tissue at wounds set the location of anterior pole formation: a polarized AP axis, the pre-existing midline, and the dorsal-ventral median plane. Subsequently, blastema pattern is organized around the anterior pole. This process, utilizing positional information in existing tissue at unpredictably shaped wounds, can influence the patterning of new tissue in a manner that facilitates integration with pre-existing tissue in regeneration.
Date issued
2017-02
Department
Massachusetts Institute of Technology. Department of Biology
Citation
Oderberg, Isaac M. et al. "Landmarks in Existing Tissue at Wounds Are Utilized to Generate Pattern in Regenerating Tissue." Current Biology 27, 5 (March 2017): 733–742 © 2017 Elsevier Ltd
Version: Author's final manuscript
---
Collections