JAK2/IDH-mutant–driven myeloproliferative neoplasm is sensitive to combined targeted inhibition
Author(s)
McKenney, Anna Sophia
;
Somasundara, Amritha Varshini Hanasoge
;
Spitzer, Barbara
;
Intlekofer, Andrew M.
;
Ahn, Jihae
;
Shank, Kaitlyn
;
Rapaport, Franck T.
;
Patel, Minal A.
;
Papalexi, Efthymia
;
Chiu, April
;
Freinkman, Elizaveta
;
Akbay, Esra A.
;
Steadman, Mya
;
Nagaraja, Raj
;
Yen, Katharine
;
Teruya-Feldstein, Julie
;
Wong, Kwok-Kin
;
Rampal, Raajit
;
Levine, Ross L.
;
Lau, Allison N.
;
Shihadeh, Alan
;
Vander Heiden, Matthew G.
;
Thompson, Craig B.
;
Levine, Ross L
; ...
Show more
Show less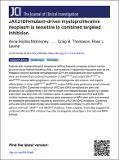 Download
94516.2-20180123111130-covered-253bed37ca4c1ab43d105aefdf7b5536.pdf (15.01Mb)
PUBLISHER_CC
Publisher with Creative Commons License
Creative Commons Attribution
Abstract
Patients with myeloproliferative neoplasms (MPNs) frequently progress to bone marrow failure or acute myeloid leukemia (AML), and mutations in epigenetic regulators such as the metabolic enzyme isocitrate dehydrogenase (IDH) are associated with poor outcomes. Here, we showed that combined expression of Jak2V617Fand mutant IDH1R132Hor Idh2R140Q induces MPN progression, alters stem/progenitor cell function, and impairs differentiation in mice. Jak2V617FIdh2R140Q–mutant MPNs were sensitive to small-molecule inhibition of IDH. Combined inhibition of JAK2 and IDH2 normalized the stem and progenitor cell compartments in the murine model and reduced disease burden to a greater extent than was seen with JAK inhibition alone. In addition, combined JAK2 and IDH2 inhibitor treatment also reversed aberrant gene expression in MPN stem cells and reversed the metabolite perturbations induced by concurrent JAK2 and IDH2 mutations. Combined JAK2 and IDH2 inhibitor therapy also showed cooperative efficacy in cells from MPN patients with both JAK2mutand IDH2mutmutations. Taken together, these data suggest that combined JAK and IDH inhibition May offer a therapeutic advantage in this high-risk MPN subtype.
Date issued
2018-04
Department
Broad Institute of MIT and Harvard

;

Massachusetts Institute of Technology. Department of Biological Engineering

;

Massachusetts Institute of Technology. Department of Biology

;

Massachusetts Institute of Technology. Department of Mechanical Engineering

;

Sloan School of Management

;

Koch Institute for Integrative Cancer Research at MIT
Journal
Journal of Clinical Investigation
Publisher
American Society for Clinical Investigation
Citation
McKenney, Anna Sophia, Allison N. Lau, Amritha Varshini Hanasoge Somasundara, Barbara Spitzer, Andrew M. Intlekofer, Jihae Ahn, Kaitlyn Shank, et al. "JAK2/IDH-Mutant–driven Myeloproliferative Neoplasm Is Sensitive to Combined Targeted Inhibition." Journal of Clinical Investigation 128, no. 2 (January 22, 2018): 789–804.
Version: Final published version
---
Collections