Measurement of inclusive jet cross sections in pp and PbPb collisions at √sNN = 2.76 TeV
Author(s)
Abercrombie, Daniel Robert
;
Allen, Brandon Leigh
;
Apyan, Aram
;
Barbieri, Richard Alexander
;
Baty, Austin Alan
;
Bi, Ran
;
Bierwagen, Katharina
;
Brandt, Stephanie Akemi
;
Busza, Wit
;
Demiragli, Zeynep
;
Di Matteo, Leonardo
;
Gomez-Ceballos, Guillelmo
;
Goncharov, Maxim
;
Hsu, Dylan George
;
Iiyama, Yutaro
;
Innocenti, Gian Michele
;
Klute, Markus
;
Kovalskyi, Dmytro
;
Krajczar, Krisztian F.
;
Lai, Yue Shi
;
Lee, Yen-Jie
;
Levin, Andrew Michael
;
Luckey Jr, P David
;
Marini, Andrea Carlo
;
McGinn, Christopher Francis
;
Mironov, Camelia Maria
;
Narayanan, Siddharth Madhavan
;
Niu, Xinmei
;
Paus, Christoph M. E.
;
Roland, Christof E
;
Roland, Gunther M
;
Salfeld-Nebgen, Jakob Maxillian Henry
;
Stephans, George S. F.
;
Sumorok, Konstanty C
;
Tatar, Kaya
;
Varma, Mukund Madhav
;
Velicanu, Dragos Alexandru
;
Veverka, Jan
;
Wang, Jiayue
;
Wang, Ta-Wei
;
Wyslouch, Boleslaw
;
Yang, Ming
;
Wyslouch, Victoria
; ...
Show more
Show less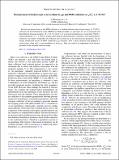 Download
PhysRevC.96.015202.pdf (1.460Mb)
PUBLISHER_CC
Publisher with Creative Commons License
Creative Commons Attribution
Abstract
Inclusive jet spectra from pp and PbPb collisions at a nucleon-nucleon center-of-mass energy of 2.76TeV, collected with the CMS detector at the CERN Large Hadron Collider, are presented. Jets are reconstructed with three different distance parameters (R=0.2, 0.3, and 0.4) for transverse momentum (pT) greater than 70GeV/c and pseudorapidity |η| < 2. Next-to-leading-order quantum chromodynamic calculations with nonperturbative corrections are found to overpredict jet production cross sections in pp for small distance parameters. The jet nuclear modification factors for PbPb compared to pp collisions, show a steady decrease from peripheral to central events, along with a weak dependence on the jet pT. They are found to be independent of the distance parameter in the measured kinematic range.
Date issued
2017-07
Department
Massachusetts Institute of Technology. Department of Physics

;

Massachusetts Institute of Technology. Laboratory for Nuclear Science
Journal
Physical Review C
Publisher
American Physical Society (APS)
Citation
Khachatryan, V., A. M. Sirunyan, A. Tumasyan, W. Adam, E. Asilar, T. Bergauer, J. Brandstetter, et al. "Measurement of inclusive jet cross sections in pp and PbPb collisions at √sNN = 2.76 TeV." Physical Review C 96, no. 1 (July 17, 2017).
Version: Final published version
---
Collections