Evidence for associated production of a Higgs boson with a top quark pair in final states with electrons, muons, and hadronically decaying τ leptons at √s = 13 TeV
Author(s)
CMS Collaboration
;
Abercrombie, Daniel Robert
;
Allen, Brandon Leigh
;
Azzolini, Virginia
;
Barbieri, Richard Alexander
;
Baty, Austin Alan
;
Bauer, Gerry P
;
Bi, Ran
;
Brandt, Stephanie Akemi
;
Busza, Wit
;
Cali, Ivan Amos
;
D'Alfonso, Mariarosaria
;
Demiragli, Zeynep
;
Gomez-Ceballos, Guillelmo
;
Goncharov, Maxim
;
Harris, Philip Coleman
;
Hsu, Dylan George
;
Hu, Miao
;
Iiyama, Yutaro
;
Innocenti, Gian Michele
;
Klute, Markus
;
Kovalskyi, Dmytro
;
Lee, Yen-Jie
;
Levin, Amy Elizabeth
;
Luckey Jr, P David
;
Maier, Benedikt
;
Marini, Andrea Carlo
;
McGinn, Christopher Francis
;
Mironov, Camelia Maria
;
Narayanan, Siddharth Madhavan
;
Niu, Xinmei
;
Paus, Christoph M. E.
;
Roland, Christof E
;
Roland, Gunther M
;
Stephans, George S. F.
;
Sumorok, Konstanty C
;
Tatar, Kaya
;
Velicanu, Dragos Alexandru
;
Wang, Jing
;
Wyslouch, Boleslaw
;
Zhaozhong, S.
; ...
Show more
Show less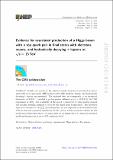 Download
Sirunyan2018_Article_EvidenceForAssociatedProductio.pdf (1.364Mb)
PUBLISHER_CC
Publisher with Creative Commons License
Creative Commons Attribution
Abstract
Results of a search for the standard model Higgs boson produced in association with a top quark pair (tt¯H) in final states with electrons, muons, and hadronically decaying τ leptons are presented. The analyzed data set corresponds to an integrated luminosity of 35.9 fb⁻¹ recorded in proton-proton collisions at s√=13 TeV by the CMS experiment in 2016. The sensitivity of the search is improved by using matrix element and machine learning methods to separate the signal from backgrounds. The measured signal rate amounts to 1.23[subscript − 0.43][superscript + 0.45] times the production rate expected in the standard model, with an observed (expected) significance of 3.2σ (2.8σ), which represents evidence for tt¯H production in those final states. An upper limit on the signal rate of 2.1 times the standard model production rate is set at 95% confidence level.
Date issued
2018-08
Department
Massachusetts Institute of Technology. Department of Physics

;

Massachusetts Institute of Technology. Laboratory for Nuclear Science
Journal
Journal of High Energy Physics
Citation
Sirunyan, A. M. et al. "Evidence for associated production of a Higgs boson with a top quark pair in final states with electrons, muons, and hadronically decaying τ leptons at √s = 13 TeV." Journal of High Energy Physics 2018, 8 (August 2018): 66 © 2018 The Author(s)
Version: Final published version
---
Collections