Measurement of the jet mass in highly boosted t[bar over t] events from pp collisions at √s=8 TeV
Author(s)
Abercrombie, Daniel Robert
;
Allen, Brandon Leigh
;
Apyan, Aram
;
Azzolini, Virginia
;
Barbieri, Richard Alexander
;
Baty, Austin Alan
;
Bi, Ran
;
Bierwagen, Katharina
;
Brandt, Stephanie Akemi
;
Busza, Wit
;
Cali, Ivan Amos
;
D'Alfonso, Mariarosaria
;
Demiragli, Zeynep
;
Gomez-Ceballos, Guillelmo
;
Goncharov, Maxim
;
Hsu, Dylan George
;
Iiyama, Yutaro
;
Innocenti, Gian Michele
;
Klute, Markus
;
Kovalskyi, Dmytro
;
Krajczar, Krisztian F.
;
Lai, Yue Shi
;
Lee, Yen-Jie
;
Levin, Andrew Michael
;
Luckey Jr, P David
;
Maier, Benedikt
;
Marini, Andrea Carlo
;
McGinn, Christopher Francis
;
Mironov, Camelia Maria
;
Narayanan, Siddharth Madhavan
;
Niu, Xinmei
;
Paus, Christoph M. E.
;
Roland, Christof E
;
Roland, Gunther M
;
Salfeld-Nebgen, Jakob Maxillian Henry
;
Stephans, George S. F.
;
Tatar, Kaya
;
Velicanu, Dragos Alexandru
;
Wang, J.
;
Wyslouch, Boleslaw
; ...
Show more
Show less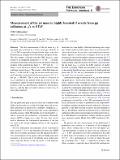 Download
s10052-017-5030-3_pdfa.pdf (1.228Mb)
PUBLISHER_CC
Publisher with Creative Commons License
Creative Commons Attribution
Abstract
The first measurement of the jet mass mjet of top quark jets produced in tt¯ events from pp collisions at √s=8 TeV is reported for the jet with the largest transverse momentum pT in highly boosted hadronic top quark decays. The data sample, collected with the CMS detector, corresponds to an integrated luminosity of 19.7 fb[superscript -1]. The measurement is performed in the lepton+jets channel in which the products of the semileptonic decay t→bW with W→ℓν where ℓ is an electron or muon, are used to select t[bar over t] events with large Lorentz boosts. The products of the fully hadronic decay t→bW with W→q[bar overq]′ are reconstructed using a single Cambridge–Aachen jet with distance parameter R=1.2, and p[subscript T]>400 GeV . The t[bar over t] cross section as a function of m[subscript jet] is unfolded at the particle level and is used to test the modelling of highly boosted top quark production. The peak position of the m[subscript jet] distribution is sensitive to the top quark mass m[subscript t], and the data are used to extract a value of mt to assess this sensitivity. Keywords: CMS, Physics, Top quark cross section, Top quark mass
Date issued
2017-07
Department
Massachusetts Institute of Technology. Department of Physics

;

Massachusetts Institute of Technology. Laboratory for Nuclear Science
Journal
The European Physical Journal C
Publisher
Springer/Società Italiana di Fisica
Citation
CMS Collaboration, et al. "Measurement of the Jet Mass in Highly Boosted t[bar over t] Events from Pp Collisions at √s = 8 TeV." The European Physical Journal C, vol. 77, no. 7, July 2017.
Version: Final published version
---
Collections