Measurement of the Top Quark Mass with Lepton+jets Final States Using pp Collisions at √s =13 TeV
Author(s)
CMS Collaboration
;
Abercrombie, Daniel Robert
;
Allen, Brandon Leigh
;
Azzolini, Virginia
;
Barbieri, Richard Alexander
;
Baty, Austin Alan
;
Bauer, Gerry P
;
Bi, Ran
;
Brandt, Stephanie Akemi
;
Busza, Wit
;
Cali, Ivan Amos
;
D'Alfonso, Mariarosaria
;
Demiragli, Zeynep
;
Gomez-Ceballos, Guillelmo
;
Goncharov, Maxim
;
Harris, Philip Coleman
;
Hsu, Dylan George
;
Hu, Miao
;
Iiyama, Yutaro
;
Innocenti, Gian Michele
;
Klute, Markus
;
Kovalskyi, Dmytro
;
Lee, Yen-Jie
;
Levin, Amy Elizabeth
;
Luckey Jr, P David
;
Maier, Benedikt
;
Marini, Andrea Carlo
;
McGinn, Christopher Francis
;
Mironov, Camelia Maria
;
Narayanan, Siddharth Madhavan
;
Niu, Xinmei
;
Paus, Christoph M. E.
;
Roland, Christof E
;
Roland, Gunther M
;
Stephans, George S. F.
;
Sumorok, Konstanty C
;
Tatar, Kaya
;
Velicanu, Dragos Alexandru
;
Wang, Jing
;
Wang, Ta-Wei
;
Wyslouch, Boleslaw
;
Shi, Zhaozhong
; ...
Show more
Show less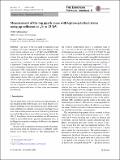 Download
Sirunyan2018_Article_MeasurementOfTheTopQuarkMassWi.pdf (909.8Kb)
PUBLISHER_CC
Publisher with Creative Commons License
Creative Commons Attribution
Abstract
The mass of the top quark is measured using a sample of tt¯ events collected by the CMS detector using proton-proton collisions at s√=13 TeV at the CERN LHC. Events are selected with one isolated muon or electron and at least four jets from data corresponding to an integrated luminosity of 35.9fb⁻¹. For each event the mass is reconstructed from a kinematic fit of the decay products to a tt¯ hypothesis. Using the ideogram method, the top quark mass is determined simultaneously with an overall jet energy scale factor (JSF), constrained by the mass of the W boson in qq¯¯¯′ decays. The measurement is calibrated on samples simulated at next-to-leading order matched to a leading-order parton shower. The top quark mass is found to be 172.25±0.08(stat+JSF)±0.62(syst)GeV. The dependence of this result on the kinematic properties of the event is studied and compared to predictions of different models of tt¯ production, and no indications of a bias in the measurements are observed.
Date issued
2018-10
Department
Massachusetts Institute of Technology. Department of Nuclear Science and Engineering

;

Massachusetts Institute of Technology. Department of Physics

;

Massachusetts Institute of Technology. Laboratory for Nuclear Science
Journal
European Physical Journal C: Particles and Fields
Publisher
Springer Berlin Heidelberg
Citation
Sirunyan, A. M. et al. "Measurement of the Top Quark Mass with Lepton+jets Final States Using pp Collisions at √s =13 TeV" The European Physical Journal C 78, 11 (November 2018): 891 © 2018 CERN for the benefit of the CMS collaboration
Version: Final published version
---
Collections