Measurement of the Top Quark Mass Using Single Top Quark Events in Proton-Proton Collisions at √s = 8 TeV
Author(s)
CMS Collaboration
;
Abercrombie, Daniel Robert
;
Allen, Brandon Leigh
;
Apyan, Aram
;
Azzolini, Virginia
;
Barbieri, Richard Alexander
;
Baty, Austin Alan
;
Bi, Ran
;
Bierwagen, Katharina
;
Brandt, Stephanie Akemi
;
Busza, Wit
;
Cali, Ivan Amos
;
D'Alfonso, Mariarosaria
;
Demiragli, Zeynep
;
Gomez-Ceballos, Guillelmo
;
Goncharov, Maxim
;
Hsu, Dylan George
;
Iiyama, Yutaro
;
Innocenti, Gian Michele
;
Klute, Markus
;
Kovalskyi, Dmytro
;
Krajczar, Krisztian F.
;
Lai, Yue Shi
;
Lee, Yen-Jie
;
Levin, Amy Elizabeth
;
Luckey Jr, P David
;
Maier, Benedikt
;
Marini, Andrea Carlo
;
McGinn, Christopher Francis
;
Mironov, Camelia Maria
;
Narayanan, Siddharth Madhavan
;
Niu, Xinmei
;
Paus, Christoph M. E.
;
Roland, Christof E
;
Roland, Gunther M
;
Salfeld-Nebgen, Jakob Maxillian Henry
;
Stephans, George S. F.
;
Tatar, Kaya
;
Velicanu, Dragos Alexandru
;
Wang, Jing
;
Wang, Ta-Wei
;
Wyslouch, Boleslaw
; ...
Show more
Show less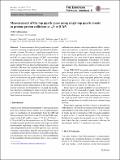 Download
Sirunyan2017_Article_MeasurementOfTheTopQuarkMassUs.pdf (1.089Mb)
PUBLISHER_CC
Publisher with Creative Commons License
Creative Commons Attribution
Abstract
A measurement of the top quark mass is reported in events containing a single top quark produced via the electroweak t channel. The analysis is performed using data from proton-proton collisions collected with the CMS detector at the LHC at a centre-of-mass energy of 8 TeV, corresponding to an integrated luminosity of 19.7 fb- 1. Top quark candidates are reconstructed from their decay to a W boson and a b quark, with the W boson decaying leptonically to a muon and a neutrino. The final state signature and kinematic properties of single top quark events in the t channel are used to enhance the purity of the sample, suppressing the contribution from top quark pair production. A fit to the invariant mass distribution of reconstructed top quark candidates yields a value of the top quark mass of 172.95±0.77(stat)-0.93+0.97(syst)GeV. This result is in agreement with the current world average, and represents the first measurement of the top quark mass in event topologies not dominated by top quark pair production, therefore contributing to future averages with partially uncorrelated systematic uncertainties and a largely uncorrelated statistical uncertainty.
Date issued
2017-05
Department
Massachusetts Institute of Technology. Department of Nuclear Science and Engineering

;

Massachusetts Institute of Technology. Department of Physics

;

Massachusetts Institute of Technology. Laboratory for Nuclear Science
Journal
European Physical Journal C: Particles and Fields
Publisher
Springer Berlin Heidelberg
Citation
Sirunyan, A. M., A. Tumasyan, W. Adam, E. Asilar, T. Bergauer, J. Brandstetter, et al. "Measurement of the Top Quark Mass Using Single Top Quark Events in Proton-Proton Collisions at √s = 8 TeV." The European Physical Journal C 77, 5 (May 2017): 354 © 2017 CERN for the benefit of the CMS collaboration
Version: Final published version
---
Collections