Measurement of the transverse momentum spectrum of the Higgs boson produced in pp collisions at √s=8 TeV using H → WW decays
Author(s)
Allen, Brandon Leigh
;
Apyan, Aram
;
Barbieri, Richard Alexander
;
Baty, Austin Alan
;
Bi, Ran
;
Bierwagen, Katharina
;
Brandt, Stephanie Akemi
;
Busza, Wit
;
Cali, Ivan Amos
;
Demiragli, Zeynep
;
Di Matteo, Leonardo
;
Gomez-Ceballos, Guillelmo
;
Goncharov, Maxim
;
Hsu, Dylan George
;
Iiyama, Yutaro
;
Innocenti, Gian Michele
;
Klute, Markus
;
Kovalskyi, Dmytro
;
Krajczar, Krisztian F.
;
Lai, Yue Shi
;
Lee, Yen-Jie
;
Levin, Andrew Michael
;
Luckey Jr, P David
;
Marini, Andrea Carlo
;
McGinn, Christopher Francis
;
Mironov, Camelia Maria
;
Narayanan, Siddharth Madhavan
;
Niu, Xinmei
;
Paus, Christoph M. E.
;
Roland, Christof E
;
Roland, Gunther M
;
Salfeld-Nebgen, Jakob Maxillian Henry
;
Stephans, George S. F.
;
Sumorok, Konstanty C
;
Tatar, Kaya
;
Varma, Mukund Madhav
;
Velicanu, Dragos Alexandru
;
Veverka, Jan
;
Wang, J.
;
Wang, Ta-Wei
;
Wyslouch, Boleslaw
;
Yang, Mingming
;
Wyslouch, Victoria
; ...
Show more
Show less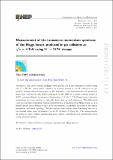 Download
Khachatryan2017_Article_MeasurementOfTheTransverseMome(1).pdf (705.3Kb)
PUBLISHER_CC
Publisher with Creative Commons License
Creative Commons Attribution
Abstract
The cross section for Higgs boson production in pp collisions is studied using the H → W[superscript +]W[superscript −] decay mode, followed by leptonic decays of the W bosons to an oppositely charged electron-muon pair in the final state. The measurements are performed using data collected by the CMS experiment at the LHC at a centre-of-mass energy of 8 TeV, corresponding to an integrated luminosity of 19.4 fb[superscript −1]. The Higgs boson transverse momentum (p[subscript T]) is reconstructed using the lepton pair p[subscript T] and missing p[subscript T]. The differential cross section times branching fraction is measured as a function of the Higgs boson pTin a fiducial phase space defined to match the experimental acceptance in terms of the lepton kinematics and event topology. The production cross section times branching fraction in the fiducial phase space is measured to be 39 ± 8 (stat) ± 9 (syst) fb. The measurements are found to agree, within experimental uncertainties, with theoretical calculations based on the standard model. Keywords: Hadron-Hadron scattering (experiments), Higgs physics
Date issued
2017-03
Department
Massachusetts Institute of Technology. Department of Physics

;

Massachusetts Institute of Technology. Laboratory for Nuclear Science
Journal
Journal of High Energy Physics
Publisher
Springer Nature
Citation
Khachatryan, V., A. M. Sirunyan, A. Tumasyan, W. Adam, E. Asilar, T. Bergauer, et al. "Measurement of the Transverse Momentum Spectrum of the Higgs Boson Produced in Pp Collisions at √s =8 TeV Using H → WW Decays." Journal of High Energy Physics 2017, no. 3 (March 2017). © 2017 The Author(s).
Version: Final published version
---
Collections