Conceptual Design for a Hybrid Electric and Thermal Solar (HEATS) Receiver for Efficient and Dispatchable Solar Electricity
Author(s)
Weinstein, Lee A.
;
McEnaney, Kenneth
;
Strobach, Elise
;
Yang, Sungwoo
;
Bhatia, Bikram
;
Zhoa, Lin
;
Huang, Yi
;
Loomis, James
;
Coa, Feng
;
Boriskina, Svetlana V
;
Ren, Zhifeng
;
Weng, Evelyn N.
;
Chen, Gang
; ...
Show more
Show less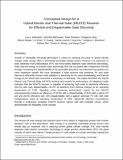 Download
Conceptual Design for a Hybrid Electric And Thermal Solar Receiver for Efficient and Dispatchable Solar Electricity.pdf (2.427Mb)
Alternative title
A Hybrid Electric and Thermal Solar Receiver
Abstract
Growth of renewable electricity generation is critical to reducing the pace of global climate change. Solar energy offers a promising renewable energy source, however it is expensive to store electricity from photovoltaics (PV), the most widely deployed solar electricity technology. Solar thermal energy is another solar technology that can be paired with inexpensive thermal storage, increasing the dispatchability of the generated electricity, but solar thermal systems are more expensive overall. We have developed a solar receiver that combines PV and solar thermal to efficiently convert solar radiation to electricity (to be used immediately) and thermal energy (to be stored and converted to electricity on demand). This paper describes the Hybrid Electric And Thermal Solar (HEATS) receiver and models its performance. An idealized model indicates that the HEATS receiver is capable of achieving high solar to electricity efficiency (35.2%) with high dispatchability (44.2% of electricity from thermal energy)at an operating temperature of 775K. Modeling using measured performance values for the HEATS subcomponents predicts an efficiency of 26.8% with a dispatchability of 81% with a silicon PV cell and 28.5% efficiency and 76% dispatchability with a gallium arsenide PV cell, with both configurations using an operating temperature of 700K. Measured effective transmittance through a preliminary prototype HEATS receiver agrees well with modeled values, which demonstrates the feasibility of the concept.
Date issued
2018-03
Department
Massachusetts Institute of Technology. Department of Mechanical Engineering
Citation
Weinstein, Lee A., et al. "A Hybrid Electric and Thermal Solar Receiver." Joule, 2, 5, (May 2018), 962-975
Version: Author's final manuscript
---
Collections