Modeling Framework and Implementation of Activity- and Agent-Based Simulation: An Application to the Greater Boston Area
Author(s)
Hemerly Viegas de Lima, Isabel
;
Danaf, Mazen
;
Akkinepally, Arun P
;
Lima De Azevedo, Carlos Miguel
;
Ben-Akiva, Moshe E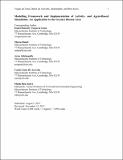 Open Access Policy
Open Access Policy
Creative Commons Attribution-Noncommercial-Share Alike
Abstract
This paper presents a utility-maximizing approach to agent-based modeling with an application to the Greater Boston Area (GBA). It leverages day activity schedules (DAS) to create a framework for representing travel demand in an individual's day. DAS are composed of a sequence of stops that make up home-based tours with activity purposes, intermediate stops, and subtours. The framework introduced in this paper includes three levels: (1) the Day Pattern Level, which determines if an individual will travel and, if so, what types of primary activities and intermediate stops they will do; (2) the Tour Level, which models the mode, destination, and time-of-day of the different primary activities; and (3) the Intermediate Stop Level, which generates intermediate stops. The models are estimated for the GBA using the 2010 Massachusetts Travel Survey (MTS). They are then implemented in SimMobility, the agent-based, activity-based, multimodal simulator. It run in a microsimulation using a Synthetic Population. Produced results are consistent with the MTS. Compared with similar activity-based approaches, the proposed framework allows for more flexibility in modeling a wide range of activity and travel patterns.
Date issued
2018-10
Department
Massachusetts Institute of Technology. Department of Civil and Environmental Engineering
Journal
Transportation Research Record
Publisher
SAGE Publications
Citation
Viegas de Lima, Isabel, et al. "Modeling Framework and Implementation of Activity- and Agent-Based Simulation: An Application to the Greater Boston Area." Transportation Research Record, 2672, 49 (December 2018): 146-157.
Version: Author's final manuscript
---
Collections