Marine microbial metagenomes sampled across space and time
Author(s)
Biller, Steven
;
Berube, Paul M.
;
Dooley, Keven Douglas
;
Williams, Madeline Dee
;
Satinsky, Brandon Meyer
;
Hackl, Thomas
;
Hogle, Shane Lahman
;
Coe, Allison
;
Bergauer, Kristin
;
Bouman, Heather A.
;
Browning, Thomas J.
;
De Corte, Daniele
;
Hassler, Christel
;
Hulston, Debbie
;
Jacquot, Jeremy E.
;
Maas, Elizabeth W.
;
Reinthaler, Thomas
;
Sintes, Eva
;
Yokokawa, Taichi
;
Chisholm, Sallie W
; ...
Show more
Show less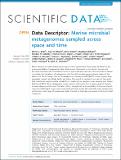 Abstract
Recent advances in understanding the ecology of marine systems have been greatly facilitated by the growing availability of metagenomic data, which provide information on the identity, diversity and functional potential of the microbial community in a particular place and time. Here we present a dataset comprising over 5 terabases of metagenomic data from 610 samples spanning diverse regions of the Atlantic and Pacific Oceans. One set of metagenomes, collected on GEOTRACES cruises, captures large geographic transects at multiple depths per station. The second set represents two years of time-series data, collected at roughly monthly intervals from 3 depths at two long-term ocean sampling sites, Station ALOHA and BATS. These metagenomes contain genomic information from a diverse range of bacteria, archaea, eukaryotes and viruses. The data's utility is strengthened by the availability of extensive physical, chemical, and biological measurements associated with each sample. We expect that these metagenomes will facilitate a wide range of comparative studies that seek to illuminate new aspects of marine microbial ecosystems.
Date issued
2018-09
Department
Massachusetts Institute of Technology. Department of Civil and Environmental Engineering

;

Massachusetts Institute of Technology. Department of Biology
Publisher
Springer Science and Business Media LLC
Citation
Biller, Steven J. et al. "Marine microbial metagenomes sampled across space and time." Scientific Data 5, 1 (September 2018): 180176 © 2018 The Author(s)
Version: Final published version
---
Collections