Broadband Electro-Optical Crossbar Switches Using Low-Loss Ge2Sb2Se4Te1 Phase Change Material
Author(s)
De Leonardis, Francesco
;
Soref, Richard
;
Passaro, Vittorio M. N.
;
Zhang, Yifei
;
Hu, Juejun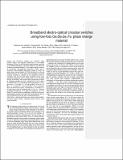 Open Access Policy
Open Access Policy
Creative Commons Attribution-Noncommercial-Share Alike
Abstract
This theoretical modeling and simulation paper presents designs and projected performance of non-volatile broadband on-chip 1 × 2 and 2 × 2 electro-optical switches operating in the telecommunication C-band and based on the silicon-on-insulator technological platform. These optical switches consist of an asymmetric two-waveguide directional coupler and a symmetric three-waveguide directional coupler, in which the optical phase change material Ge[subscript 2]Sb[subscript 2]Se[subscript 4]Te[subscript 1] (GSST) is the top cladding layer for one of the silicon strip waveguides. Reversible crossbar switching is attained by the amorphous (Am) to crystalline (Cr) and Cr-to-Am phase transitions in the GSST induced by heating the GSST in contact with an indium tin oxide (ITO) microstrip through Joule heating. We examined device performance in terms of mid-band insertion loss (IL), crosstalk (CT), and 0.3-dB IL bandwidth (BW). The 2 × 2 results were IL = -0.018 dB, CT < 31.3 dB, and BW = 58 nm for the coupling length Lc of 15.4 μm, and IL = 0.046 dB, CT < 38.1 dB, and BW = 70 nm for the coupling length Lc of 17.4 μm. Simulations of the 1 × 2 devices at 16.7-μm Lc revealed that IL = 0.083 dB and CT < 12.8 dB along with an expanded BW of 95 nm. Thermal simulations showed that a 5-V pulse train applied to 10[superscript 19]-cm[superscript -3] doped ITO would produce crystallization; however, the process of amorphization required a 24-V pulse of 2.9-μs duration to raise the GSST temperature above the melting temperature of 900 K.
Date issued
2019-04
Department
Massachusetts Institute of Technology. Department of Materials Science and Engineering
Journal
Journal of Lightwave Technology
Publisher
Institute of Electrical and Electronics Engineers (IEEE)
Citation
De Leonardis, Francesco et al. "Broadband Electro-Optical Crossbar Switches Using Low-Loss Ge2Sb2Se4Te1 Phase Change Material." Journal of Lightwave Technology 37, 13 (July 2019): 3183 - 3191 © 2019 IEEE
Version: Author's final manuscript
---
Collections