Causal inference and American political development: the case of the gag rule
Author(s)
Jenkins, Jeffery A.
;
Stewart III, Charles H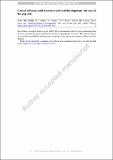 Download
11127_2019_754_ReferencePDF.pdf (821.5Kb)
Open Access Policy
Open Access Policy
Creative Commons Attribution-Noncommercial-Share Alike
Abstract
We investigate the "gag rule", a parliamentary device that from 1836 to 1844 barred the US House of Representatives from receiving petitions concerning the abolition of slavery. In the mid-1830s, the gag rule emerged as a partisan strategy to keep slavery off the congressional agenda, amid growing abolitionist agitation in the North. Very quickly, however, the strategy backfired, as the gag rule was framed successfully as a mechanism that encroached on white northerners' rights of petition. By 1844, popular pressure had become so great that many northern Democrats, an important bloc of prior gag rule supporters, yielded to electoral pressure, broke party ranks, and voted to rescind the rule, thereby sealing its fate. More generally, the politics of the gag rule provide an interesting causal-inference case study of the interplay between social movement development and congressional politics before the Civil War.
Date issued
2019-11
Department
Massachusetts Institute of Technology. Department of Political Science
Publisher
Springer Science and Business Media LLC
Citation
Jenkins, Jeffery A. and Charles Stewart III. "Causal inference and American political development: the case of the gag rule." Public Choice 185, 3-4 (November 2019): 429–457 © 2019 Springer Science Business Media, LLC, part of Springer Nature
Version: Author's final manuscript
---
Collections