Baroreflexaktivierungstherapie bei therapieresistenter Hypertonie
Author(s)
Reuter, H.
;
Beige, J.
;
Halbach, M.
;
Wallbach, M.
;
Mader, N.
;
Zenker, D.
;
Hennig, G.
;
Mahfoud, Felix
;
Schlieper, G.
;
Schwenger, V.
;
Hausberg, M.
;
Börgel, J.
;
Lodde, M.
;
van der Giet, M.
;
Müller-Ehmsen, J.
;
Passauer, J.
;
Parmentier, S.
;
Lüders, S.
;
Krämer, B. K.
;
Büttner, S.
;
Limbourg, F.
;
Jordan, J.
;
Vonend, O.
;
Predel, H.‑G.
;
Koziolek, M.
; ...
Show more
Show less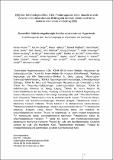 Download
11560_2018_308_ReferencePDF.pdf (1.332Mb)
Publisher Policy
Publisher Policy
Article is made available in accordance with the publisher's policy and may be subject to US copyright law. Please refer to the publisher's site for terms of use.
Alternative title
Baroreflex activation therapy in treatment-resistant hypertension
Terms of use
Article is made available in accordance with the publisher's policy and may be subject to US copyright law. Please refer to the publisher's site for terms of use.
Abstract
Die Hemmung eines erhöhten Sympathikotonus stellt für verschiedene Erkrankungen ein effektives und in vielen Fällen kausales Therapieprinzip dar. Neben pharmakologischen Ansätzen mit Betablockern oder zentralen Sympatholytika sind in den letzten Jahren zunehmend auch interventionelle Verfahren, wie die renale Sympathikusdenervation oder die Baroreflexaktivierungstherapie (BAT) v. a. in der Behandlung der therapierefraktären arteriellen Hypertonie zur Anwendung gekommen. Kontroverse Studienergebnisse zur Wirksamkeit dieser Verfahren haben jedoch die Diskussion um Patientenselektion und Qualitätsstandards in der Anwendung entfacht. Infolge der aktuellen Indikationserweiterung findet zudem die BAT zunehmend Verbreitung in der Behandlung der systolischen Herzinsuffizienz. Eine Gruppe führender Anwender und Wissenschaftler auf dem Gebiet der BAT hat daher zusammen mit interdisziplinären Hypertensiologen in einer Konsensuskonferenz Voraussetzungen für die Etablierung eines BAT-Programms und Standards zur Implantation, Programmierung und Nachsorge definiert. The inhibition of an increased sympathicotonia is an effective and in many cases causal target in the treatment of various diseases. In addition to pharmacologic options, such as beta blockers or centrally acting sympathicolytic agents interventional procedures, such as renal denervation or baroreflex activation therapy (BAT) have been increasingly used in recent years especially for the treatment of therapy-resistant arterial hypertension. Controversial study results on the efficacy of these procedures, however, opened up a fundamental discussion on patient selection and quality standards for procedures. With the current extension of indications, BAT is also being applied with increasing frequency for the treatment of systolic heart failure. Therefore, a group of experienced operators and scientists in the field of BAT together with hypertension specialists defined prerequisites for sites planning to establish a BAT program and standards for implantation, programming and aftercare in a consensus conference.
Date issued
2019-01
Department
Massachusetts Institute of Technology. Institute for Medical Engineering and Science
Publisher
Springer Science and Business Media LLC
Citation
Reuter, H. et al. "Baroreflexaktivierungstherapie bei therapieresistenter Hypertonie." Der Nephrologe 14, 2 (January 2019): 124–133 © 2019 Springer Medizin Verlag GmbH
Version: Author's final manuscript
---
Collections