Production of d-Glyceric acid from d-Galacturonate in Escherichia coli
Author(s)
Fox, Kevin J.
;
Prather, Kristala L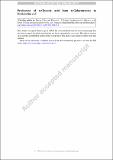 Download
10295_2020_2323_ReferencePDF.pdf (548.0Kb)
Open Access Policy
Open Access Policy
Creative Commons Attribution-Noncommercial-Share Alike
Abstract
A microbial production platform has been developed in Escherichia coli to synthesize d-glyceric acid from d-galacturonate. The expression of uronate dehydrogenase (udh) from Pseudomonas syringae and galactarolactone isomerase (gli) from Agrobacterium fabrum, along with the inactivation of garK, encoding for glycerate kinase, enables d-glyceric acid accumulation by utilizing the endogenous expression of galactarate dehydratase (garD), 5-keto-4-deoxy-D-glucarate aldolase (garL), and 2-hydroxy-3-oxopropionate reductase (garR). Optimization of carbon flux through the elimination of competing metabolic pathways led to the development of a ΔgarKΔhyiΔglxKΔuxaC mutant strain that produced 4.8 g/l of d-glyceric acid from d-galacturonate, with an 83% molar yield. Cultivation in a minimal medium produced similar yields and demonstrated that galactose or glycerol serve as possible carbon co-feeds for industrial production. This novel platform represents an alternative for the production of d-glyceric acid, an industrially relevant chemical, that addresses current challenges in using acetic acid bacteria for its synthesis: increasing yield, enantio-purity and biological stability.
Date issued
2020-10
Department
Massachusetts Institute of Technology. Department of Chemical Engineering
Journal
Journal of Industrial Microbiology and Biotechnology
Publisher
Oxford University Press (OUP)
Citation
Fox, Kevin J. and Kristala L. J. Prather et al. "Production of d-Glyceric acid from d-Galacturonate in Escherichia coli." Journal of Industrial Microbiology and Biotechnology 47, 12 (October 2020): 1075–1081 © 2020 Society for Industrial Microbiology and Biotechnology
Version: Author's final manuscript
---
Collections