Genome-scale screens identify factors regulating tumor cell responses to natural killer cells
Author(s)
Sheffer, Michal
;
Lowry, Emily
;
Beelen, Nicky
;
Borah, Minasri
;
Amara, Suha Naffar-Abu
;
Mader, Chris C.
;
Roth, Jennifer A.
;
Tsherniak, Aviad
;
Freeman, Samuel S.
;
Dashevsky, Olga
;
Gandolfi, Sara
;
Bender, Samantha
;
Bryan, Jordan G.
;
Zhu, Cong
;
Wang, Li
;
Tariq, Ifrah
;
Kamath, Govinda M.
;
Simoes, Ricardo De Matos
;
Dhimolea, Eugen
;
Yu, Channing
;
Hu, Yiguo
;
Dufva, Olli
;
Giannakis, Marios
;
Syrgkanis, Vasilis
;
Fraenkel, Ernest
;
Golub, Todd
;
Romee, Rizwan
;
Mustjoki, Satu
;
Culhane, Aedin C.
;
Wieten, Lotte
;
Mitsiades, Constantine S.
; ...
Show more
Show less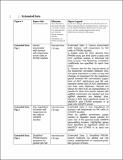 Download
Genome-scale screens identify factors regulating tumor cell responses to natural killer cells.pdf (Embargoed until: 2022-01-12, 20.16Mb)
Publisher Policy
Publisher Policy
Article is made available in accordance with the publisher's policy and may be subject to US copyright law. Please refer to the publisher's site for terms of use.
Terms of use
Article is made available in accordance with the publisher's policy and may be subject to US copyright law. Please refer to the publisher's site for terms of use.
Abstract
To systematically define molecular features in human tumor cells that determine their degree of sensitivity to human allogeneic natural killer (NK) cells, we quantified the NK cell responsiveness of hundreds of molecularly annotated 'DNA-barcoded' solid tumor cell lines in multiplexed format and applied genome-scale CRISPR-based gene-editing screens in several solid tumor cell lines, to functionally interrogate which genes in tumor cells regulate the response to NK cells. In these orthogonal studies, NK cell-sensitive tumor cells tend to exhibit 'mesenchymal-like' transcriptional programs; high transcriptional signature for chromatin remodeling complexes; high levels of B7-H6 (NCR3LG1); and low levels of HLA-E/antigen presentation genes. Importantly, transcriptional signatures of NK cell-sensitive tumor cells correlate with immune checkpoint inhibitor (ICI) resistance in clinical samples. This study provides a comprehensive map of mechanisms regulating tumor cell responses to NK cells, with implications for future biomarker-driven applications of NK cell immunotherapies.
Date issued
2021-07
Department
Massachusetts Institute of Technology. Department of Biological Engineering
Publisher
Springer Science and Business Media LLC
Citation
Sheffer, Michal et al. "Genome-scale screens identify factors regulating tumor cell responses to natural killer cells." Nature Genetics 53, 8 (July 2021): 1196–1206. © 2021 The Author(s)
Version: Author's final manuscript
---
Collections