Andrographolide, an Antioxidant, Counteracts Paraquat- Induced Mutagenesis in Mammalian Cells
Author(s)
Tajai, Preechaya
;
Suriyo, Tawit
;
Rangkadilok, Nuchanart
;
Fedeles, Bogdan I
;
Essigmann, John M.
;
Satayavivad, Jutamaad
; ...
Show more
Show less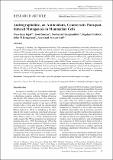 Abstract
© This work is licensed under a Creative Commons Attribution-Non Commercial 4.0 International License. Paraquat (1,1'-dimethyl, 4,4'-bipyridinium dichloride; PQ), a commonly used herbicide worldwide, is both toxic and mutagenic. The mutagenic effect of PQ stems from its ability to redox-cycle, generating oxidative stress and subsequently oxidative DNA damage, which miscodes when replication is attempted. Andrographolide (AP1), the major constituent in the leaves of the herbaceous plant Andrographis paniculata, is a diterpenoid with reported antioxidant activity. The present study employed the mammalian cell line AS52 to investigate the protective effect of AP1 against PQ-induced mutagenesis. AP1 induced cytotoxicity in AS52 cells in a dose-dependent manner (IC50 = 15.7 µM), which allowed the selection of a non-lethal dose for the mutagenesis studies. While PQ was mutagenic in AS52 cells as evidenced by the increased levels of 6-TGr mutants, AP1 by itself did not increase the mutation frequency. However, co-treatment with AP1 (1-5 µM) or the antioxidant N-acetylcysteine (2 mM) almost completely counteracted the mutagenicity of PQ (10-100 µM) in AS52 cells. Taken together, these findings suggest that AP1, and likely by extension, A. paniculata extracts, are effective antioxidants that can protect against PQ-induced mutations, and thus could be a promising alternative treatment for PQ poisoning.
Date issued
2021
Department
Massachusetts Institute of Technology. Department of Biological Engineering

;

Massachusetts Institute of Technology. Department of Chemistry

;

Massachusetts Institute of Technology. Center for Environmental Health Sciences
Journal
Asian Pacific Journal of Cancer Prevention
Publisher
EpiSmart Science Vector Ltd
Citation
Tajai, Preechaya, Suriyo, Tawit, Rangkadilok, Nuchanart, Fedeles, Bogdan I, Essigmann, John M. et al. 2021. "Andrographolide, an Antioxidant, Counteracts Paraquat- Induced Mutagenesis in Mammalian Cells." Asian Pacific Journal of Cancer Prevention, 22 (S1).
Version: Final published version
---
Collections