Soybean Oil-Based Biopolymers Induced by Nonthermal Plasma to Enhance the Dyeing of Para-Aramids with a Cationic Dye
Author(s)
Metzcar, Caleb
;
Ye, Xiaofei Philip
;
Wang, Toni
;
Doona, Christopher J.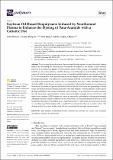 Download
polymers-14-00628-v2.pdf (24.35Mb)
Abstract
To overcome the recalcitrance of para-aramid textiles against dyeing, this study demonstrated that increasing the functionalities of soybean oil applied to the surface of para-aramids followed by a nonthermal plasma (NTP) treatment improved the dyeing color strength compared with the use of soybean oil alone, and that dyeing occurred through covalent bonding. Particularly, compared with the pretreatment using soybean oil that obtained the highest color strength of 3.89 (as K/S value determined from spectral analysis of the sample reflectance in the visible range), the present pretreatments with either acrylated epoxidized soybean oil (AESO) or a mixture of acrylic acid and soybean oil (AA/Soy) achieved K/S values higher than nine (>9.00). The NTP treatment, after the AESO or AA/Soy pretreatment, was essential in inducing the formation of a polymerized network on the surface of para-aramids that bonded the dye molecules and generating covalent bonds that anchored the polymerized network to the para-aramids, which is difficult to achieve given the high crystallinity and chemical inertness of para-aramids. As an important economic consideration, the sequential experimentation method demonstrated that a simple mixture of AA/Soy could replace the expensive AESO reagent and render a comparable performance in dyeing para-aramids. Among the auxiliary additives tested with the AESO and AA/Soy pretreatments followed by NPT treatment in this study, Polysorbate 80 as a surfactant negatively affected the dyeing, benzyl alcohol as a swelling agent had minimal effect, and NaCl as an electrolyte showed a positive effect. The dyeing method developed in this study did not compromise the strength of para-aramids.
Date issued
2022-02-06
Citation
Metzcar, C.; Ye, X.P.; Wang, T.; Doona, C.J. Soybean Oil-Based Biopolymers Induced by Nonthermal Plasma to Enhance the Dyeing of Para-Aramids with a Cationic Dye. Polymers 14 (3): 628 (2022)
Version: Final published version
---
Collections