Abl Kinase Inhibits the Engulfment of Apoptotic [corrected] Cells in Caenorhabditis elegans
Author(s)
Hurwitz, Michael Eliezer
;
Vanderzalm, Pamela J.
;
Bloom, Laird
;
Goldman, Julia
;
Garriga, Gian
;
Horvitz, Howard Robert
; ...
Show more
Show less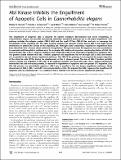 Download
Hurwitz-2009-Abl Kinase Inhibits the Engulfment.pdf (668.3Kb)
PUBLISHER_CC
Publisher with Creative Commons License
Creative Commons Attribution
Alternative title
Abl Kinase Inhibits the Engulfment of Apopotic Cells in Caenorhabditis elegans
Abstract
The engulfment of apoptotic cells is required for normal metazoan development and tissue remodeling. In Caenorhabditis elegans, two parallel and partially redundant conserved pathways act in cell-corpse engulfment. One pathway includes the adaptor protein CED-2 CrkII and the small GTPase CED-10 Rac, and acts to rearrange the cytoskeleton of the engulfing cell. The other pathway includes the receptor tyrosine kinase CED-1 and might recruit membranes to extend the surface of the engulfing cell. Although many components required for engulfment have been identified, little is known about inhibition of engulfment. The tyrosine kinase Abl regulates the actin cytoskeleton in mammals and Drosophila in multiple ways. For example, Abl inhibits cell migration via phosphorylation of CrkII. We tested whether ABL-1, the C. elegans ortholog of Abl, inhibits the CED-2 CrkII-dependent engulfment of apoptotic cells. Our genetic studies indicate that ABL-1 inhibits apoptotic cell engulfment, but not through CED-2 CrkII, and instead acts in parallel to the two known engulfment pathways. The CED-10 Rac pathway is also required for proper migration of the distal tip cells (DTCs) during the development of the C. elegans gonad. The loss of ABL-1 function partially restores normal DTC migration in the CED-10 Rac pathway mutants. We found that ABI-1 the C. elegans homolog of mammalian Abi (Abl interactor) proteins, is required for engulfment of apoptotic cells and proper DTC migration. Like Abl, Abi proteins are cytoskeletal regulators. ABI-1 acts in parallel to the two known engulfment pathways, likely downstream of ABL-1. ABL-1 and ABI-1 interact physically in vitro. We propose that ABL-1 opposes the engulfment of apoptotic cells by inhibiting ABI-1 via a pathway that is distinct from the two known engulfment pathways.
Description
There is a typographical error in the title of this article. The word "Apopotic" should be spelled "Apoptotic."
Date issued
2009-04
Department
Massachusetts Institute of Technology. Department of Biology
Publisher
Public Library of Science
Citation
Hurwitz ME, Vanderzalm PJ, Bloom L, Goldman J, Garriga G, et al. (2009) Abl Kinase Inhibits the Engulfment of Apoptotic Cells in Caenorhabditis elegans. PLoS Biol 7(4): e1000099. doi:10.1371/journal.pbio.1000099
Version: Final published version
---
Collections