SIRT1 Regulates Thyroid-Stimulating Hormone Release by Enhancing PIP5Kγ[subscript gamma] Activity through Deacetylation of Specific Lysine Residues in Mammals
Author(s)
Guarente, Leonard Pershing
;
Akieda-Asai, Sayaka
;
Zaima, Nobuhiro
;
Ikegami, Koji
;
Kahyo, Tomoaki
;
Yao, Ikuko
;
Hatanaka, Takahiro
;
Iemura, Shun-ichiro
;
Sugiyama, Rika
;
Yokozeki, Takeaki
;
Eishi, Yoshinobu
;
Koike, Morio
;
Ikeda, Kyoji
;
Chiba, Takuya
;
Yamaza, Haruyoshi
;
Shimokawa, Isao
;
Song, Si-Young
;
Matsuno, Akira
;
Mizutani, Akiko
;
Sawabe, Motoji
;
Chao, Moses V.
;
Tanaka, Masashi
;
Kanaho, Yasunori
;
Natsume, Tohru
;
Sugimura, Haruhiko
;
Date, Yukari
;
McBurney, Michael W.
;
Setou, Mitsutoshi
; ...
Show more
Show less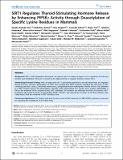 Download
Akieda-Asai-2010-SIRT1 Regulates Thyr.pdf (2.485Mb)
PUBLISHER_CC
Publisher with Creative Commons License
Creative Commons Attribution
Abstract
Background: SIRT1, a NAD-dependent deacetylase, has diverse roles in a variety of organs such as regulation of endocrine function and metabolism. However, it remains to be addressed how it regulates hormone release there. Methodology/Principal Findings: Here, we report that SIRT1 is abundantly expressed in pituitary thyrotropes and regulates thyroid hormone secretion. Manipulation of SIRT1 level revealed that SIRT1 positively regulated the exocytosis of TSH-containing granules. Using LC/MS-based interactomics, phosphatidylinositol-4-phosphate 5-kinase (PIP5K)γ[subscript gamma] was identified as a SIRT1 binding partner and deacetylation substrate. SIRT1 deacetylated two specific lysine residues (K265/K268) in PIP5Kγ[subscript gamma] and enhanced PIP5Kγ[subscript gamma] enzyme activity. SIRT1-mediated TSH secretion was abolished by PIP5Kγ[subscript gamma] knockdown. SIRT1 knockdown decreased the levels of deacetylated PIP5Kγ, PI(4,5)P[subscript 2], and reduced the secretion of TSH from pituitary cells. These results were also observed in SIRT1-knockout mice. Conclusions/Significance: Our findings indicated that the control of TSH release by the SIRT1-PIP5Kγ[subscript gamma] pathway is important for regulating the metabolism of the whole body.
Date issued
2010-07
Department
Massachusetts Institute of Technology. Department of Biology
Publisher
Public Library of Science
Citation
Akieda-Asai, Sayaka et al. "SIRT1 Regulates Thyroid-Stimulating Hormone Release by Enhancing PIP5Kγ Activity through Deacetylation of Specific Lysine Residues in Mammals." Ed. Mikhail V. Blagosklonny. PLoS ONE 5.7 (2010): e11755.
Version: Final published version
---
Collections