Discussion of "Global Imbalances and the Financial Crisis: Products of Common Causes, by M. Obstfeld and K. Rogoff"
Author(s)
Caballero, Ricardo J.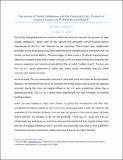 Download
Commentary on Global Imbalances and the Financial Crisis.pdf (143.4Kb)
OPEN_ACCESS_POLICY
Open Access Policy
Creative Commons Attribution-Noncommercial-Share Alike
Alternative title
Commentary: "Global Imbalances and the Financial Crisis: Products of Common Causes"
Abstract
One of the main global economic concerns before the financial crisis was the presence of large "global imbalances," which refer to the massive and persistent current account deficits experienced by the U.S. and financed by the periphery. This concern was intellectually grounded on the devastating crises often experienced by emerging market economies that run chronic current account deficits. The main trigger of these crises is the abrupt macroeconomic adjustment needed to deal with a sudden reversal in the net capital inflows that supported the previous expansion and current account deficits (the so called "sudden stops"). The fear was that the U.S. would experience a similar fate, which would unavoidably drag the world economy into a deep recession. As we all know, the crisis eventually came and it came with more force than we all anticipated. However, the mechanism did not at all resemble the feared sudden stop as quite the opposite occurred. During the crisis, net capital inflows to the U.S. were a stabilizing rather than a destabilizing force. The U.S. as a whole never experienced, not even remotely, an external funding problem. Some pre‐crisis imbalance critics have chosen to ignore the inconvenient fact that their anticipated mechanism played no role in the crisis, choosing instead to take the credit for the realization of the forecast of doom. One can feel the tension in the current paper: At times Maury and Ken are tempted to go the self‐gratifying "I told you so" route, but they are intellectually too solid to do so, and hence they pull themselves out of it. Deeply at heart they still feel that global imbalances did it, but they also know that they need to find a different mechanism from the conventional sudden stop story if they are to match the facts.
Date issued
2009-10
Department
Massachusetts Institute of Technology. Department of Economics
Journal
ASIA Economic Policy Conference, 2009
Publisher
Federal Reserve Bank of San Francisco
Citation
Caballero, Ricardo J. "Commentary: "Global Imbalances and the Financial Crisis: Products of Common Causes" Asia Economic Policy Conference (1st : 2009 : San Francisco, Calif.)
Version: Author's final manuscript
---
Collections