Context Dependent Neuroprotective Properties of Prion Protein (Prp)
Author(s)
Steele, Andrew D.
;
Lindquist, Susan
;
Jackson, Walker S.
;
Auluck, Pavan K.
;
Zhu, Chunni
;
Zhou, Zhipeng
;
Moskowitz, Michael A.
;
Chesselet, Marie-Francoise
; ...
Show more
Show less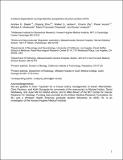 OPEN_ACCESS_POLICY
Open Access Policy
Creative Commons Attribution-Noncommercial-Share Alike
Abstract
Although it has been known for more than twenty years that an aberrant conformation of the prion protein (PrP) is the causative agent in prion diseases, the role of PrP in normal biology is undetermined. Numerous studies have suggested a protective function for PrP, including protection from ischemic and excitotoxic lesions and several apoptotic insults. On the other hand, many observations have suggested the contrary, linking changes in PrP localization or domain structure—independent of infectious prion conformation—to severe neuronal damage. Surprisingly, a recent report suggests that PrP is a receptor for toxic oligomeric species of a-β, a pathogenic fragment of the amyloid precursor protein, and likely contributes to disease pathogenesis of Alzheimer's disease. We sought to access the role of PrP in diverse neurological disorders. First, we confirmed that PrP confers protection against ischemic damage using an acute stroke model, a well characterized association. After ischemic insult, PrP knockouts had dramatically increased infarct volumes and decreased behavioral performance compared to controls. To examine the potential of PrP's neuroprotective or neurotoxic properties in the context of other pathologies, we deleted PrP from several transgenic models of neurodegenerative disease. Deletion of PrP did not substantially alter the disease phenotypes of mouse models of Parkinson's disease or tauopathy. Deletion of PrP in one of two Huntington's disease models tested, R6/2, modestly slowed motor deterioration as measured on an accelerating rotarod but otherwise did not alter other major features of the disease. Finally, transgenic overexpression of PrP did not exacerbate the Huntington's motor phenotype. These results suggest that PrP has a context-dependent neuroprotective function and does not broadly contribute to the disease models tested herein.
Date issued
2009-01
Department
Massachusetts Institute of Technology. Department of Biology
Publisher
Landes Bioscience
Citation
Steele, Andrew D. et al. "Context dependent neuroprotective properties of prion protein (PrP)." Prion 3 (2009): 240-249. Web. 3 Nov. 2011. © 2009 Landes Bioscience
Version: Author's final manuscript
---
Collections