Biosynthesis of chiral 3-hydroxyvalerate from single propionate-unrelated carbon sources in metabolically engineered E. coli
Author(s)
Tseng, Hsien-chung
;
Harwell, Catey L.
;
Martin, Collin H.
;
Prather, Kristala L. Jones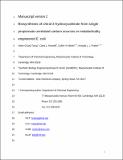 Download
Prather-Biosynthesis of chiral.pdf (254.0Kb)
OPEN_ACCESS_POLICY
Open Access Policy
Creative Commons Attribution-Noncommercial-Share Alike
Abstract
Background The ability to synthesize chiral building block molecules with high optical purity is of considerable importance to the fine chemical and pharmaceutical industries. Production of one such compound, 3-hydroxyvalerate (3HV), has previously been studied with respect to the in vivo or in vitro enzymatic depolymerization of biologically-derived co-polymers of poly(3-hydroxybutyrate-co-3-hydroxyvalerate). However, production of this biopolymeric precursor typically necessitates the supplementation of a secondary carbon source (e.g., propionate) into the culture medium. In addition, previous approaches for producing 3HV have not focused on its enantiopure synthesis, and thus suffer from increased costs for product purification. Results Here, we report the selective biosynthesis of each 3HV stereoisomer from a single, renewable carbon source using synthetic metabolic pathways in recombinant strains of Escherichia coli. The product chirality was controlled by utilizing two reductases of opposing stereoselectivity. Improvement of the biosynthetic pathway activity and host background was carried out to elevate both the 3HV titers and 3HV/3HB ratios. Overall, shake-flask titers as high as 0.31 g/L and 0.50 g/L of (S)-3HV and (R)-3HV, respectively, were achieved in glucose-fed cultures, whereas glycerol-fed cultures yielded up to 0.19 g/L and 0.96 g/L of (S)-3HV and (R)-3HV, respectively. Conclusions Our work represents the first report of direct microbial production of enantiomerically pure 3HV from a single carbon source. Continued engineering of host strains and pathway enzymes will ultimately lead to more economical production of chiral 3HV.
Date issued
2010-11
Department
Massachusetts Institute of Technology. Department of Chemical Engineering
Journal
Microbial Cell Factories
Publisher
BioMed Central Ltd.
Citation
Tseng, Hsien-Chung et al. "Biosynthesis of chiral 3-hydroxyvalerate from single propionate-unrelated carbon sources in metabolically engineered E. coli." Microbial Cell Factories 9.1 (2010): 96.
Version: Author's final manuscript
---
Collections