Review Essay of Dorit Bar-On's Speaking My Mind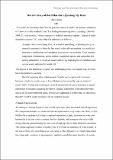 Download
Byrne_Review Essay of Dorit Bar-On's Speaking My Mind.pdf (169.1Kb)
OPEN_ACCESS_POLICY
Open Access Policy
Creative Commons Attribution-Noncommercial-Share Alike
Abstract
"Avowals" are utterances that "ascribe [current] states of mind"; for instance utterances of 'I have a terrible headache' and 'I'm finding this painting utterly puzzling' (Bar-On 2004: 1). And avowals, "when compared to ordinary empirical reports…appear to enjoy distinctive security" (1), which Bar-On elaborates as follows: A subject who avows being tired, or scared of something, or thinking that p, is normally presumed to have the last word on the relevant matters; we would not presume to criticize her self-ascription or to reject it on the basis of our contrary judgement. Furthermore, unlike ordinary empirical reports, and somewhat like apriori statements, avowals are issued with a very high degree of confidence and are not easily subjected to doubt. (3) The project of this ambitious, original, and challenging book is to explain why avowals have this distinctive security. Bar-On's guiding idea is that avowals "can be seen as pieces of expressive behavior, similar in certain ways to bits of behavior that naturally express subjects' states" (227). Crying and moaning are natural expressions of pain, yawning is a natural expression of tiredness, reaching for beer is a natural expression of the desire for beer, and so on. In some important sense, avowals are supposed to be like that. In what sense, though? It will be useful to begin with the simplest answer.
Date issued
2011-07
Department
Massachusetts Institute of Technology. Department of Linguistics and Philosophy
Journal
Philosophy and Phenomenological Research
Publisher
Wiley Blackwell (Blackwell Publishing)
Citation
Byrne, Alex. "Review Essay of Dorit Bar-On's Speaking My Mind." Philosophy and Phenomenological Research 83.3 (2011): 705–717. Web. 26 June 2012.
Version: Author's final manuscript
---
Collections