Polar-azimuthal angle dependent efficiency of different infrared superconducting nanowire single-photon detector designs
Author(s)
Csete, Maria
;
Sipos, Aron
;
Najafi, Faraz
;
Berggren, Karl K.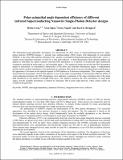 Download
Berggren-Polar-azimuthal angle dependent efficiency.pdf (13.27Mb)
PUBLISHER_POLICY
Publisher Policy
Article is made available in accordance with the publisher's policy and may be subject to US copyright law. Please refer to the publisher's site for terms of use.
Terms of use
Article is made available in accordance with the publisher's policy and may be subject to US copyright law. Please refer to the publisher's site for terms of use.
Abstract
The illumination-angle-dependent absorptance was determined for three types of superconducting-nanowire singlephoton detector (SNSPD) designs: 1. periodic bare niobium-nitride (NbN) stripes with dimensions of conventional SNSPDs, 2. the same NbN patterns integrated with ~quarter-wavelength hydrogensilsesquioxane-filled nano- cavity, 3. similar cavity-integrated structures covered by a thin gold reflector. A three-dimensional finite-element method was applied to determine the optical response and near-field distribution as a function of p-polarized light illumination orientations specified by polar-angle, φ, and azimuthal-angle, γ. The numerical results proved that the NbN absorptance might be maximized via simultaneous optimization of the polar and azimuthal illumination angles. Complementary transfer-matrix-method calculations were performed on analogous film-stacks to uncover the phenomena contributing to the appearance of extrema on the optical response of NbN-patterns in P-structure-configuration. This comparative study showed that the absorptance of bare NbN patterns is zero at the angle corresponding to total internal reflection (TIR). In cavity-integrated structures the NbN absorptance curve indicates a maximum at the same orientation due to the phase shift introduced by the quarter-wavelength HSQ layer. The reflector promotes the NbN absorptance at small polar angles, but the available absorptance is limited by attenuated TIR in polar angle-intervals, where surface modes are excited on the gold film.
Date issued
2011-09
Department
Massachusetts Institute of Technology. Research Laboratory of Electronics
Journal
Infrared sensors, devices, and applications : and Single photon imaging II
Publisher
Society of Photo-optical Instrumentation Engineers
Citation
Csete, Maria et al. "Polar-azimuthal Angle Dependent Efficiency of Different Infrared Superconducting Nanowire Single-photon Detector Designs." Infrared sensors, devices, and applications: and Single photon imaging II : 22-25 August 2011, San Diego, California, United States. Edited by Paul D. LeVan et al. 2011. 81551K–81551K–8. (Proceedings of SPIE ; v. 8155) Web. ©2011 SPIE.
Version: Final published version
Other identifiers
SPIE v. 8155
ISBN
9780819487650
0819487651
---
Collections