Dietary Manipulation and Social Isolation Alter Disease Progression in a Murine Model of Coronary Heart Disease
Author(s)
Nakagawa-Toyama, Yumiko
;
Zhang, Songwen
;
Krieger, Monty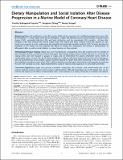 Download
Nakagawa-Toyama-2012-Dietary Manipulation.pdf (1.065Mb)
PUBLISHER_CC
Publisher with Creative Commons License
Creative Commons Attribution
Abstract
Background: Mice with a deficiency in the HDL receptor SR-BI and low expression of a modified apolipoprotein E gene (SR-BI KO/ApoeR61h/h) called 'HypoE' when fed an atherogenic, 'Paigen' diet develop occlusive, atherosclerotic coronary arterial disease (CHD), myocardial infarctions (MI), and heart dysfunction and die prematurely (50% mortality ~40 days after initiation of this diet). Because few murine models share with HypoE mice these cardinal, human-like, features of CHD, HypoE mice represent a novel, small animal, diet-inducible and genetically tractable model for CHD. To better describe the properties of this model, we have explored the effects of varying the composition and timing of administration of atherogenic diets, as well as social isolation vs. group housing, on these animals. Methodology/Principal Findings: HypoE mice were maintained on a standard lab chow diet (control) until two months of age. Subsequently they received one of three atherogenic diets (Paigen, Paigen without cholate, Western) or control diet for varying times and were housed in groups or singly, and we determined the plasma cholesterol levels, extent of cardiomegaly and/or survival. The rate of disease progression could be reduced by lowering the severity of the atherogenic diet and accelerated by social isolation. Disease could be induced by Paigen diets either containing or free of cholate. We also established conditions under which CHD could be initiated by an atherogenic diet and then subsequently, by replacing this diet with standard lab chow, hypercholesterolemia could be reduced and progression to early death prevented. Conclusions/Significance: HypoE mice provide a powerful, surgery-free, diet-'titratable' small animal model that can be used to study the onset of recovery from occlusive, atherosclerotic CHD and heart failure due to MI. HypoE mice can be used for the analysis of the effects of environment (diet, social isolation) on a variety of features of cardiovascular disease.
Date issued
2012-10
Department
Massachusetts Institute of Technology. Department of Biology
Publisher
Public Library of Science
Citation
Nakagawa-Toyama, Yumiko, Songwen Zhang, and Monty Krieger. "Dietary Manipulation and Social Isolation Alter Disease Progression in a Murine Model of Coronary Heart Disease." Ed. Massimo Federici. PLoS ONE 7.10 (2012): e47965. Web.
Version: Final published version
---
Collections