A conserved helicase processivity factor is needed for conjugation and replication of an integrative and conjugative element
Author(s)
Thomas, Jacob
;
Lee, Catherine Ann
;
Grossman, Alan D.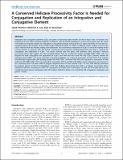 Download
Thomas-2013-A conserved helicase.pdf (463.8Kb)
PUBLISHER_CC
Publisher with Creative Commons License
Creative Commons Attribution
Abstract
Integrative and conjugative elements (ICEs) are agents of horizontal gene transfer and have major roles in evolution and acquisition of new traits, including antibiotic resistances. ICEs are found integrated in a host chromosome and can excise and transfer to recipient bacteria via conjugation. Conjugation involves nicking of the ICE origin of transfer (oriT) by the ICE–encoded relaxase and transfer of the nicked single strand of ICE DNA. For ICEBs1 of Bacillus subtilis, nicking of oriT by the ICEBs1 relaxase NicK also initiates rolling circle replication. This autonomous replication of ICEBs1 is critical for stability of the excised element in growing cells. We found a conserved and previously uncharacterized ICE gene that is required for conjugation and replication of ICEBs1. Our results indicate that this gene, helP (formerly ydcP), encodes a helicase processivity factor that enables the host-encoded helicase PcrA to unwind the double-stranded ICEBs1 DNA. HelP was required for both conjugation and replication of ICEBs1, and HelP and NicK were the only ICEBs1 proteins needed for replication from ICEBs1 oriT. Using chromatin immunoprecipitation, we measured association of HelP, NicK, PcrA, and the host-encoded single-strand DNA binding protein Ssb with ICEBs1. We found that NicK was required for association of HelP and PcrA with ICEBs1 DNA. HelP was required for association of PcrA and Ssb with ICEBs1 regions distal, but not proximal, to oriT, indicating that PcrA needs HelP to progress beyond nicked oriT and unwind ICEBs1. In vitro, HelP directly stimulated the helicase activity of the PcrA homologue UvrD. Our findings demonstrate that HelP is a helicase processivity factor needed for efficient unwinding of ICEBs1 for conjugation and replication. Homologues of HelP and PcrA-type helicases are encoded on many known and putative ICEs. We propose that these factors are essential for ICE conjugation, replication, and genetic stability.
Date issued
2013-01
Department
Massachusetts Institute of Technology. Department of Biology
Publisher
Public Library of Science
Citation
Thomas, Jacob, Catherine A. Lee, and Alan D. Grossman. "A Conserved Helicase Processivity Factor Is Needed for Conjugation and Replication of an Integrative and Conjugative Element." Ed. Patrick H. Viollier. PLoS Genetics 9.1 (2013).
Version: Final published version
---
Collections