SLI-1 Cbl Inhibits the Engulfment of Apoptotic Cells in C. elegans through a Ligase-Independent Function
Author(s)
Anderson, Courtney
;
Zhou, Shan
;
Sawin, Emma
;
Horvitz, H. Robert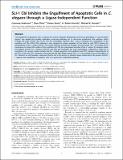 Download
Anderson-2012-SLI-1 Cbl Inhibits t.pdf (1.438Mb)
PUBLISHER_CC
Publisher with Creative Commons License
Creative Commons Attribution
Abstract
The engulfment of apoptotic cells is required for normal metazoan development and tissue remodeling. In Caenorhabditis elegans, two parallel and partially redundant conserved pathways act in cell-corpse engulfment. One pathway, which includes the small GTPase CED-10 Rac and the cytoskeletal regulator ABI-1, acts to rearrange the cytoskeleton of the engulfing cell. The CED-10 Rac pathway is also required for proper migration of the distal tip cells (DTCs) during the development of the C. elegans gonad. The second pathway includes the receptor tyrosine kinase CED-1 and might recruit membranes to extend the surface of the engulfing cell. Cbl, the mammalian homolog of the C. elegans E3 ubiquitin ligase and adaptor protein SLI-1, interacts with Rac and Abi2 and modulates the actin cytoskeleton, suggesting it might act in engulfment. Our genetic studies indicate that SLI-1 inhibits apoptotic cell engulfment and DTC migration independently of the CED-10 Rac and CED-1 pathways. We found that the RING finger domain of SLI-1 is not essential to rescue the effects of SLI-1 deletion on cell migration, suggesting that its role in this process is ubiquitin ligase-independent. We propose that SLI-1 opposes the engulfment of apoptotic cells via a previously unidentified pathway.
Date issued
2012-12
Department
move to dc.description.sponsorship

;

Massachusetts Institute of Technology. Department of Biology
Publisher
Public Library of Science
Citation
Anderson, Courtney et al. "SLI-1 Cbl Inhibits the Engulfment of Apoptotic Cells in C. Elegans Through a Ligase-Independent Function." Ed. Kaveh Ashrafi. PLoS Genetics 8.12 (2012).
Version: Final published version
---
Collections