MicroRNA-125b transforms myeloid cell lines by repressing multiple mRNA
Author(s)
Bousquet, Marina
;
Nguyen, Diu
;
Chen, Cynthia
;
Shields, Lauren
;
Lodish, Harvey F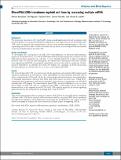 Download
Bousquet-2012-MicroRNA-125b transf.pdf (654.0Kb)
PUBLISHER_CC
Publisher with Creative Commons License
Creative Commons Attribution
Abstract
Background: We previously described a t(2;11)(p21;q23) chromosomal translocation found in patients with myelodysplasia or acute myeloid leukemia that leads to over-expression of the microRNA miR-125b, and we showed that transplantation of mice with murine stem/progenitor cells overexpressing miR-125b is able to induce leukemia. In this study, we investigated the mechanism of myeloid transformation by miR-125b. Design and Methods: To investigate the consequences of miR-125b over-expression on myeloid differentiation, apoptosis and proliferation, we used the NB4 and HL60 human promyelocytic cell lines and the 32Dclone3 murine promyelocytic cell line. To test whether miR-125b is able to transform myeloid cells, we used the non-tumorigenic and interleukin-3-dependent 32Dclone3 cell line over-expressing miR-125b, in xenograft experiments in nude mice and in conditions of interleukin-3 deprivation. To identify new miR-125b targets, we compared, by RNA-sequencing, the transcriptome of cell lines that do or do not over-express miR-125b. Results: We showed that miR-125b over-expression blocks apoptosis and myeloid differentiation and enhances proliferation in both species. More importantly, we demonstrated that miR-125b is able to transform the 32Dclone3 cell line by conferring growth independence from interleukin-3; xenograft experiments showed that these cells form tumors in nude mice. Using RNA-sequencing and quantitative real-time polymerase chain reaction experiments, we identified multiple miR-125b targets. We demonstrated that ABTB1, an anti-proliferative factor, is a new direct target of miR-125b and we confirmed that CBFB, a transcription factor involved in hematopoiesis, is also targeted by miR-125b. MiR-125b controls apoptosis by down-regulating genes involved in the p53 pathway including BAK1 and TP53INP1. Conclusions: This study demonstrates that in a myeloid context, miR-125b is an oncomiR able to transform cell lines. miR-125b blocks myeloid differentiation in part by targeting CBFB, blocks apoptosis through down-regulation of multiple genes involved in the p53 pathway, and confers a proliferative advantage to human and mouse myeloid cell lines in part by targeting ABTB1.
Date issued
2012-06
Department
Massachusetts Institute of Technology. Department of Biology

;

Whitehead Institute for Biomedical Research
Publisher
Ferrata Storti Foundation
Citation
Bousquet, M., D. Nguyen, C. Chen, L. Shields, and H. F. Lodish. MicroRNA-125b Transforms Myeloid Cell Lines by Repressing Multiple mRNA. Haematologica 97, no. 11 (November 2, 2012): 1713-1721.
Version: Final published version
---
Collections