A Selective HDAC 1/2 Inhibitor Modulates Chromatin and Gene Expression in Brain and Alters Mouse Behavior in Two Mood-Related Tests
Author(s)
Schroeder, Frederick A.
;
Lewis, Michael C.
;
Fass, Daniel M.
;
Wagner, Florence F.
;
Zhang, Yan-Ling
;
Hennig, Krista M.
;
Gale, Jennifer
;
Zhao, Wen-Ning
;
Reis, Surya
;
Barker, Douglas D.
;
Berry-Scott, Erin
;
Kim, Sung Won
;
Clore, Elizabeth L.
;
Hooker, Jacob M.
;
Holson, Edward B.
;
Haggarty, Stephen J.
;
Petryshen, Tracey
; ...
Show more
Show less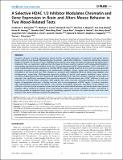 Download
Schroeder-2013-A Selective HDAC 1_2.pdf (1.676Mb)
PUBLISHER_CC
Publisher with Creative Commons License
Creative Commons Attribution
Abstract
Psychiatric diseases, including schizophrenia, bipolar disorder and major depression, are projected to lead global disease burden within the next decade. Pharmacotherapy, the primary – albeit often ineffective – treatment method, has remained largely unchanged over the past 50 years, highlighting the need for novel target discovery and improved mechanism-based treatments. Here, we examined in wild type mice the impact of chronic, systemic treatment with Compound 60 (Cpd-60), a slow-binding, benzamide-based inhibitor of the class I histone deacetylase (HDAC) family members, HDAC1 and HDAC2, in mood-related behavioral assays responsive to clinically effective drugs. Cpd-60 treatment for one week was associated with attenuated locomotor activity following acute amphetamine challenge. Further, treated mice demonstrated decreased immobility in the forced swim test. These changes are consistent with established effects of clinical mood stabilizers and antidepressants, respectively. Whole-genome expression profiling of specific brain regions (prefrontal cortex, nucleus accumbens, hippocampus) from mice treated with Cpd-60 identified gene expression changes, including a small subset of transcripts that significantly overlapped those previously reported in lithium-treated mice. HDAC inhibition in brain was confirmed by increased histone acetylation both globally and, using chromatin immunoprecipitation, at the promoter regions of upregulated transcripts, a finding consistent with in vivo engagement of HDAC targets. In contrast, treatment with suberoylanilide hydroxamic acid (SAHA), a non-selective fast-binding, hydroxamic acid HDAC 1/2/3/6 inhibitor, was sufficient to increase histone acetylation in brain, but did not alter mood-related behaviors and had dissimilar transcriptional regulatory effects compared to Cpd-60. These results provide evidence that selective inhibition of HDAC1 and HDAC2 in brain may provide an epigenetic-based target for developing improved treatments for mood disorders and other brain disorders with altered chromatin-mediated neuroplasticity.
Date issued
2013-08
Department
McGovern Institute for Brain Research at MIT

;

Picower Institute for Learning and Memory
Publisher
Public Library of Science
Citation
Schroeder, Frederick A., Michael C. Lewis, Daniel M. Fass, Florence F. Wagner, Yan-Ling Zhang, Krista M. Hennig, Jennifer Gale, et al. "A Selective HDAC 1/2 Inhibitor Modulates Chromatin and Gene Expression in Brain and Alters Mouse Behavior in Two Mood-Related Tests." Edited by Judith Homberg. PLoS ONE 8, no. 8 (August 14, 2013): e71323.
Version: Final published version
---
Collections