Isoprenoid Pathway Optimization for Taxol Precursor Overproduction in Escherichia coli
Author(s)
Wang, Y.
;
Phon, T. H.
;
Pfeifer, B.
;
Ajikumar, Parayil Kumaran
;
Xiao, Wen-Hai
;
Tyo, Keith E. J.
;
Simeon, Fritz
;
Tyo, Keith E. J.
;
Leonard, Effendi
;
Mucha, Oliver
;
Stephanopoulos, Gregory
; ...
Show more
Show less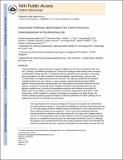 Download
Stephanopoulos_Isoprenoid pathway.pdf (1.407Mb)
OPEN_ACCESS_POLICY
Open Access Policy
Creative Commons Attribution-Noncommercial-Share Alike
Abstract
Taxol (paclitaxel) is a potent anticancer drug first isolated from the Taxus brevifolia Pacific yew tree. Currently, cost-efficient production of Taxol and its analogs remains limited. Here, we report a multivariate-modular approach to metabolic-pathway engineering that succeeded in increasing titers of taxadiene—the first committed Taxol intermediate—approximately 1 gram per liter (~15,000-fold) in an engineered Escherichia coli strain. Our approach partitioned the taxadiene metabolic pathway into two modules: a native upstream methylerythritol-phosphate (MEP) pathway forming isopentenyl pyrophosphate and a heterologous downstream terpenoid–forming pathway. Systematic multivariate search identified conditions that optimally balance the two pathway modules so as to maximize the taxadiene production with minimal accumulation of indole, which is an inhibitory compound found here. We also engineered the next step in Taxol biosynthesis, a P450-mediated 5α-oxidation of taxadiene to taxadien-5α-ol. More broadly, the modular pathway engineering approach helped to unlock the potential of the MEP pathway for the engineered production of terpenoid natural products.
Description
Author Manuscript February 6, 2011
Date issued
2010-09
Department
Massachusetts Institute of Technology. Department of Chemical Engineering
Publisher
American Association for the Advancement of Science (AAAS)
Citation
Ajikumar, P. K., W.-H. Xiao, K. E. J. Tyo, Y. Wang, F. Simeon, E. Leonard, O. Mucha, T. H. Phon, B. Pfeifer, and G. Stephanopoulos. "Isoprenoid Pathway Optimization for Taxol Precursor Overproduction in Escherichia coli." Science 330, no. 6000 (September 30, 2010): 70-74.
Version: Author's final manuscript
---
Collections