Synthesis, Characterization, and Oxygenation Studies of Carboxylate-Bridged Diiron(II) Complexes with Aromatic Substrates Tethered to Pyridine Ligands and the Formation of a Unique Trinuclear Complex
Author(s)
Friedle, Simone
;
Lippard, Stephen J.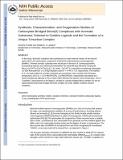 Download
Lippard_Synthesis Characterization.pdf (1.239Mb)
OPEN_ACCESS_POLICY
Open Access Policy
Creative Commons Attribution-Noncommercial-Share Alike
Abstract
In this study, diiron(II) complexes were synthesized as small molecule mimics of the reduced active sites in the hydroxylase components of bacterial multicomponent monooxygenases (BMMs). Tethered aromatic substrates were introduced in the form of 2-phenoxypyridines, incorporating hydroxy and methoxy functionalities into windmill-type diiron(II) compounds [Fe[subscript 2](μ-O[subscript 2]CAr[superscript R])[subscript 2](O[subscript 2]CAr[superscript R])[subscript 2](L)[subscript 2]] (1–4), where[superscript –]O[subscript 2]CAr[superscript R] is a sterically encumbering carboxylate, 2,6-bis(4-fluorophenyl)-, or 2,6-bis(p-tolyl)benzoate (R = 4-FPh or Tol, respectively). The inability of 1–4 to hydroxylate the aromatic substrates was ascertained. Upon reaction with dioxygen, compounds 2 and 3 (L = 2-(m-MeOPhO)Py, 2-(p-MeOPhO)Py, respectively) decompose by a known bimolecular pathway to form mixed-valent diiron(II,III) species at low temperature. Use of 2-(pyridin-2-yloxy)phenol as the ligand L resulted in a doubly bridged diiron complex 4 and an unprecedented phenoxide-bridged triiron(II) complex 5 under slightly modified reaction conditions.
Date issued
2009-11
Department
Massachusetts Institute of Technology. Department of Chemistry
Journal
European Journal of Inorganic Chemistry
Publisher
Wiley Blackwell
Citation
Friedle, Simone, and Stephen J. Lippard. "Synthesis, Characterization, and Oxygenation Studies of Carboxylate-Bridged Diiron(II) Complexes with Aromatic Substrates Tethered to Pyridine Ligands and the Formation of a Unique Trinuclear Complex." European Journal of Inorganic Chemistry (November 5, 2009).
Version: Author's final manuscript
---
Collections