Targeting p35/Cdk5 Signalling via CIP-Peptide Promotes Angiogenesis in Hypoxia
Author(s)
Bosutti, Alessandra
;
Qi, Jie
;
Pennucci, Roberta
;
Bolton, David
;
Matou, Sabine
;
Ali, Kamela
;
Tsai, Li-Huei
;
Krupinski, Jerzy
;
Petcu, Eugene B.
;
Montaner, Joan
;
Al Baradie, Raid
;
Caccuri, Francesca
;
Caruso, Arnaldo
;
Alessandri, Giulio
;
Kumar, Shant
;
Rodriguez, Cristina
;
Martinez-Gonzalez, Jose
;
Slevin, Mark
; ...
Show more
Show less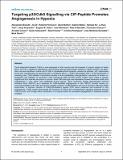 Download
Bosutti-2013-Targeting p35_Cdk5 S.pdf (6.035Mb)
PUBLISHER_CC
Publisher with Creative Commons License
Creative Commons Attribution
Terms of use
Abstract
Cyclin-dependent kinase-5 (Cdk5) is over-expressed in both neurons and microvessels in hypoxic regions of stroke tissue and has a significant pathological role following hyper-phosphorylation leading to calpain-induced cell death. Here, we have identified a critical role of Cdk5 in cytoskeleton/focal dynamics, wherein its activator, p35, redistributes along actin microfilaments of spreading cells co-localising with p[subscript (Tyr15)]Cdk5, talin/integrin beta-1 at the lamellipodia in polarising cells. Cdk5 inhibition (roscovitine) resulted in actin-cytoskeleton disorganisation, prevention of protein co-localization and inhibition of movement. Cells expressing Cdk5 (D144N) kinase mutant, were unable to spread, migrate and form tube-like structures or sprouts, while Cdk5 wild-type over-expression showed enhanced motility and angiogenesis in vitro, which was maintained during hypoxia. Gene microarray studies demonstrated myocyte enhancer factor (MEF2C) as a substrate for Cdk5-mediated angiogenesis in vitro. MEF2C showed nuclear co-immunoprecipitation with Cdk5 and almost complete inhibition of differentiation and sprout formation following siRNA knock-down. In hypoxia, insertion of Cdk5/p25-inhibitory peptide (CIP) vector preserved and enhanced in vitro angiogenesis. These results demonstrate the existence of critical and complementary signalling pathways through Cdk5 and p35, and through which coordination is a required factor for successful angiogenesis in sustained hypoxic condition.
Date issued
2013-09
Department
Picower Institute for Learning and Memory
Publisher
Public Library of Science
Citation
Bosutti, Alessandra, Jie Qi, Roberta Pennucci, David Bolton, Sabine Matou, Kamela Ali, Li-Huei Tsai, et al. "Targeting p35/Cdk5 Signalling via CIP-Peptide Promotes Angiogenesis in Hypoxia." Edited by Alain-Pierre Gadeau. PLoS ONE 8, no. 9 (September 30, 2013): e75538.
Version: Final published version
---
Collections